Engraved Watches For Men
MENS WATCH COLLECTION
PERSONALISED BY
ENGRAVERS GUILD OF LONDON
FROM £29.95

Men's Personalised Watches from Engravers Guild
The Watch Collection
The gentleman's engraved watch collection from Engravers Guild of London has been curated on three criteria: quality of the timepiece, the styling, and how it can accommodate a personal inscription. The Elie Beaumont and Henry brands are highly covetable names with strong followings, whilst Jean Pierre is renowned for its enduring Swiss craftsmanship.
All of the watches have either a polished case back for an engraving, or can be inscribed around the edge of the case back (notably for skeleton watches with a rear glass panel).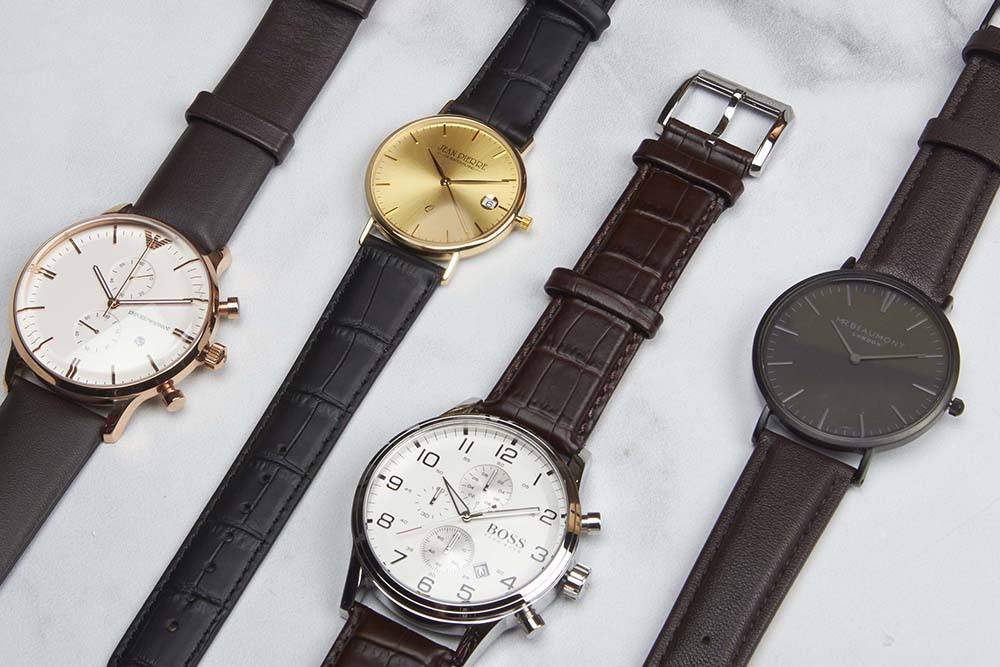 ---
Our Engraving Process
At Engravers Guild of London, we are committed to delivering the best quality of engraving possible. All of our engraved watches are finished with a precision diamond-tipped cutter, inscribing the full form of the letter and not just the outline. Experiment with different messages and fonts on our bespoke Preview Engraving Tool, perfect for visualising your engraved watch before purchase.
Select the men's engraved watch which best showcases the inscription and the watch. Henry timepieces feature a glass back to view the movement, with the engraving running around the edge. Other models, meanwhile, feature a traditional stainless steel reverse, perfect for a special engraving.
---
Brands We Stock
Henry Engraved Watches
Henry London was conceived following a visit to London's Portobello Road market. A vintage, beautifully styled, classic engraved watch was found which had the words 'Henry, August 1965' inscribed on the case back.
The piece inspired a new collection of timepieces for men. The hallmarks of the brand are in the attention to detail, the contemporary styling alongside the twentieth century influences. In a tribute to classic era of luxury watches, each timepiece has a beautifully angled case flowing seamlessly into a high double dome lens accentuating the subtle curve of the dial and elongated hands.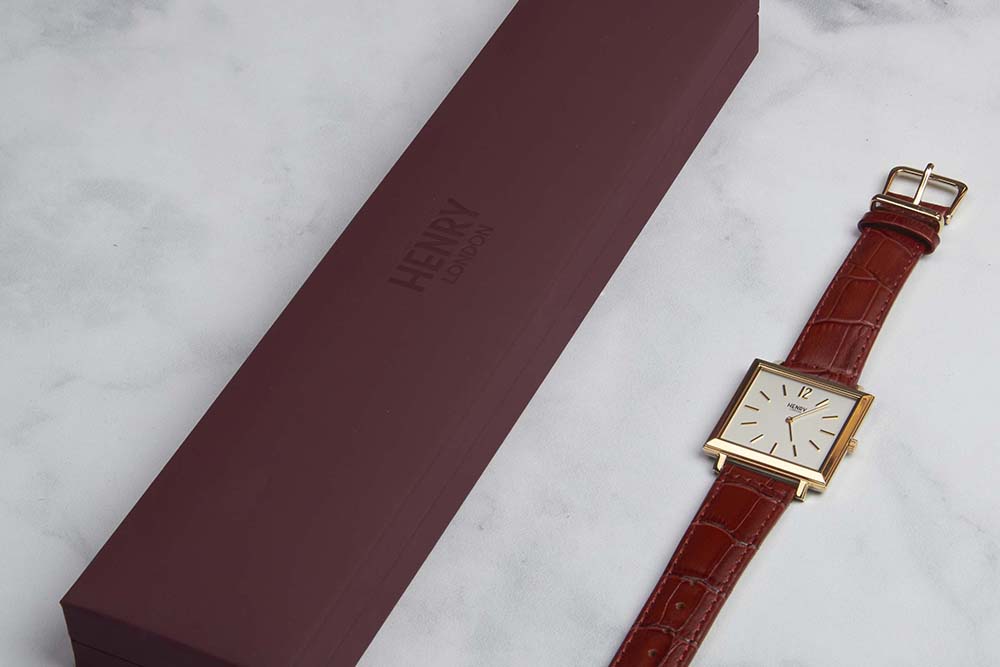 ---
Mr Beaumont Personalised Watches
Mr Beaumont is the collection designed for men from the Elie Beaumont watch house. The engraved watch collection was inspired by quintessential British Style, bringing together classic styling with a sense of fun and modernity.
With a background in fashion design, the range of watches are influenced by the world of haute couture and catwalk trends, giving way to a new generation of individuality and style. The hallmarks of the engraved watches are in their uncompromising attention to detail, allowing for the classical styling to speak for itself. The watch cases boast clean lines and crisp forms, appealing to everyone with a sense for classic and timeless design.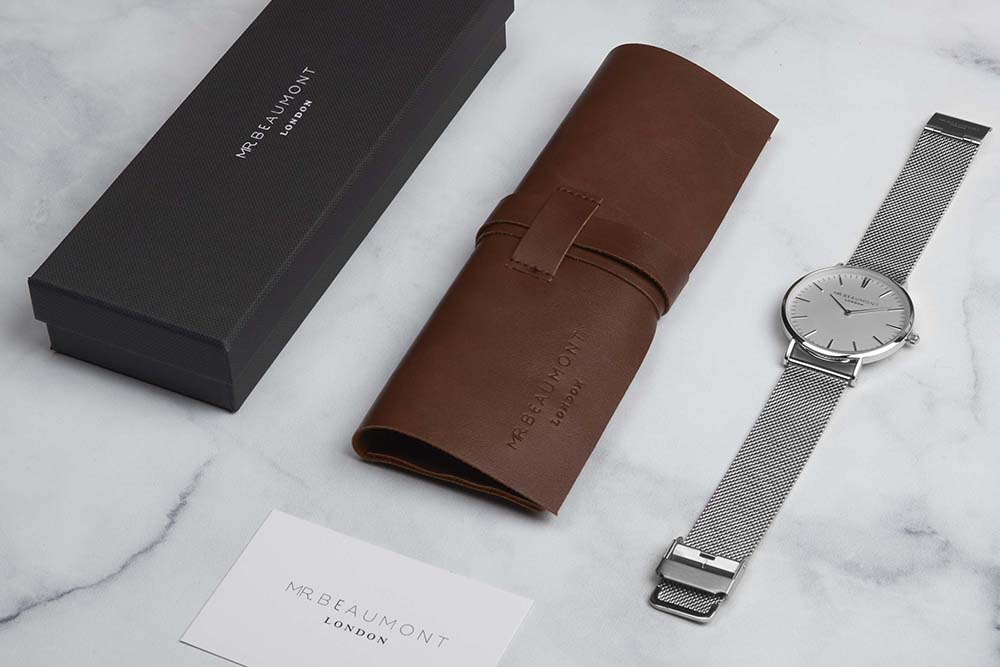 ---
Henley Watches for Men
Henley is a quintessential British brand, founded in 2004 with the ambition to create a contemporary and accessible watch house. The design team holds over 100 years of combined experience is constantly develops a range of modern styles, majoring on a use of colour and individuality. This approach runs through each touch point of the Henley experience, with the engraved watch collection being displayed in luxury presentation boxes.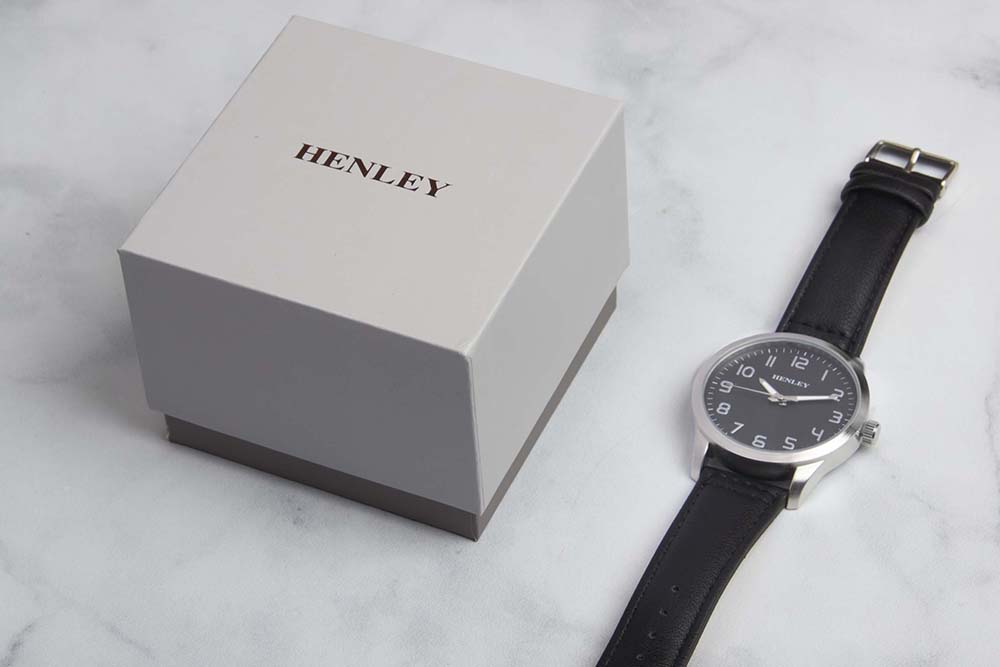 ---
Jean Pierre Watch Collection
Jean Pierre was founded in 1932 in the internationally renowned watch making capital of Bienne, Switzerland. Originally a pure manufacturer of elegant timepieces, today the brand offers a collection of watches and accessories for discerning tastes. With a complete commitment to quality, Jean Pierre engraved watches are superlative items and finished to the very highest standards. Specialising in solid gold and solid silver watches, the timepieces are designed to last through generations and so makes wonderful engraved gifts.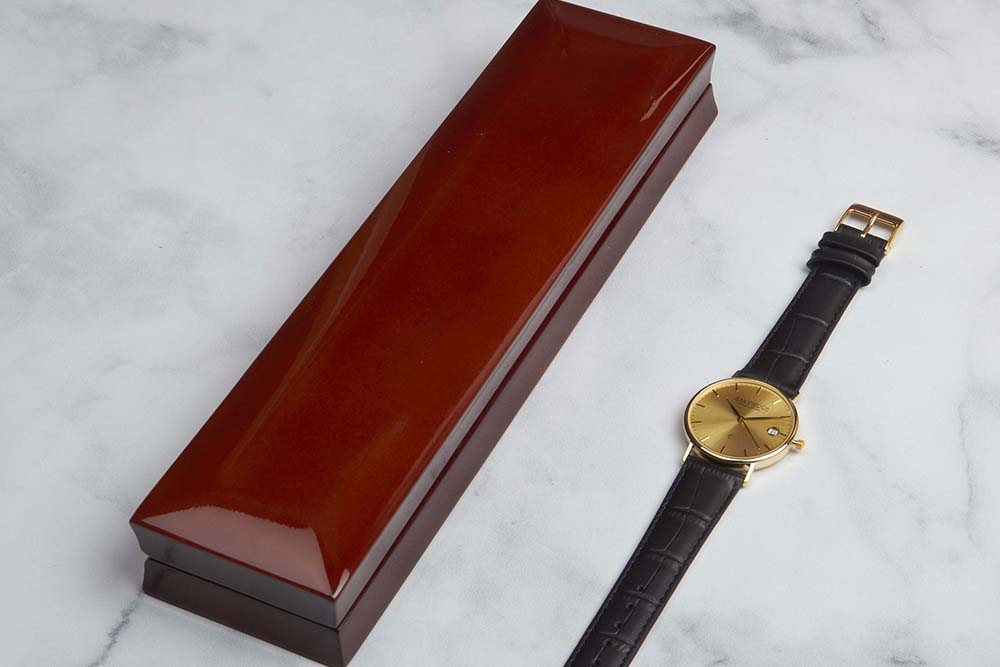 ---
Engraved Watch Collection
Engravers Guild of London is pleased to present this selection of men's engraved watches. A timepiece is perhaps the most quintessential of gifts for men, frequently filling the "Best Buy" guides of men's magazines and often cited as perhaps a man's most covetable material possession.
To elevate the gift, we are big believers that nothing makes something more special than an engraving. Today, the most valuable watches in the world are all unique in having an inscription which bears testimony to previous owners. Elvis, JFK, Marlon Brando and Paul Newman all had engraved watches go under the hammer for many millions of dollars.
However, despite a history of prized watches being personalised, today's timepieces do not lend themselves to being so finished. As such, this personalised watch collection from Engravers Guild is unique in all models being able to beautifully accommodate an engraving.
Our Men's Watch Engraving
All of our watches have been selected for their quality, style and suitability for engraving. We exclusively use diamond-tipped cutters to create a clean and crisp impression, ensuring that the inscription never loses its lustre for many years to come. Choose from a range of fonts including Script, Times and Sans-Serif, using our Preview Engraving Tool to visualise the impression before purchase.