Personalised Money Clips & Tie Clips
STUNNING MONEY CLIPS
PERSONALISED BY
ENGRAVERS GUILD OF LONDON
FROM £12.98

Expertly Engraved Silver Money Clips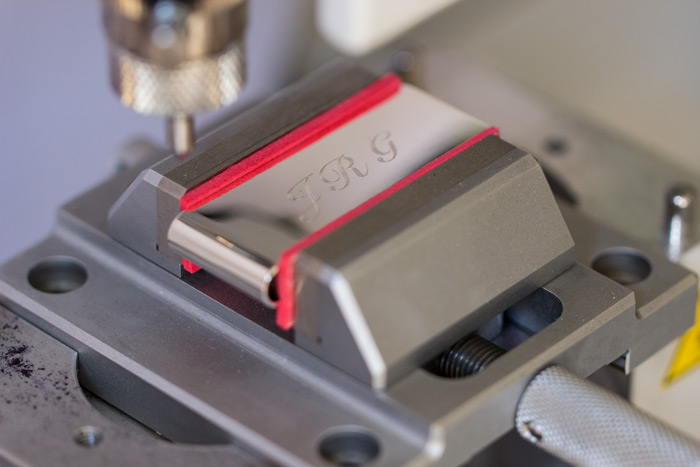 Expert Engraving
Engravers Guild of London is committed to delivering the best quality engraving. Each money clip is finished with the highest grade diamond-tipped cutter, inscribing the full form of the letter and not just the outline. The engraving works by running a finely cut diamond over the surface of the metal hundreds – if not thousands – of times to create an indelible impression that is designed to last a lifetime and be passed to the next generation.
Choose from one of the three fonts available to preview your engraving before purchase.
---
Exquisite Presentation
Personalised gifts from Engravers Guild of London are designed to make a lasting impression. Each silver money clip is presented in our signature black luxury box and carried in a white Engravers Guild transit case, complete with custom gift card. The engraving and the message in the personal card complement each other and make a beautiful opening experience.
Create a moment to remember when giving a beautiful money clip.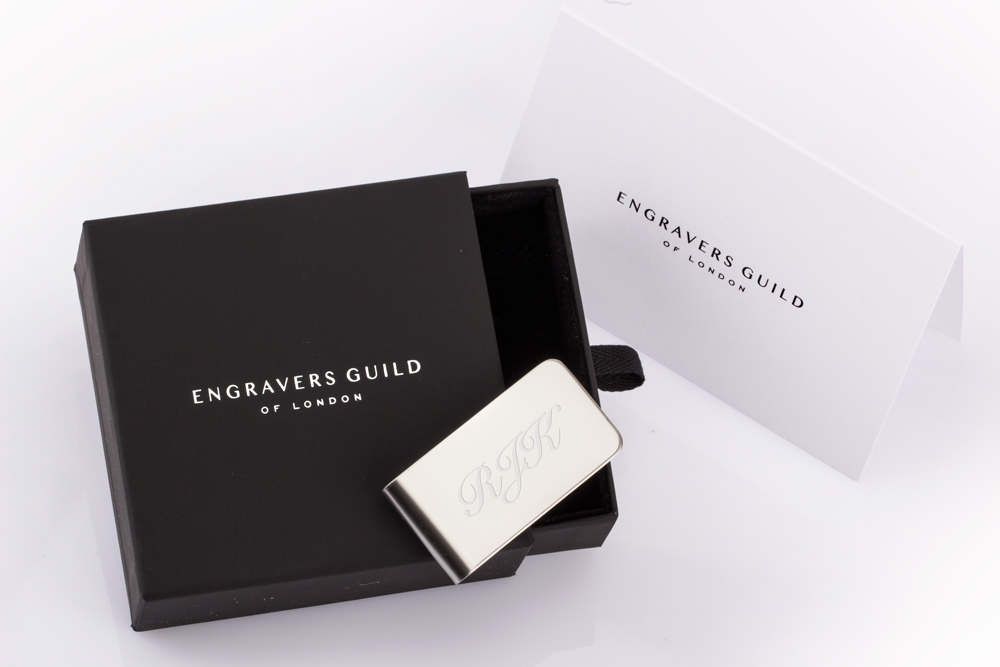 ---
Personalised Money Clips
Engravers Guild of London is proud to present this curated selection of engraved money clips for men. Ranging from an affordable stainless steel style in gold, silver, copper and black finish, our in-house collection also offers beautifully finished solid sterling silver personalised money clips made in Birmingham, UK. Manufactured with traditional techniques, each one is crafted on original machinery and hand polished by a professional silversmith to create a special and unique item.
The Engraving Process
Engravers Guild of London is committed to delivering the highest possible quality engraving. Our engravers are trained to exacting standards, taking care and pride in the personal engraving that they inscribe on each money clip. Using only high grade diamond-tipped cutters guarantees a deep and lasting impression, and we cut the full form of the letter and not just the outline. Select from a number of engraved fonts, and follow the steps for each product to see a preview of your personalised money clip before purchase.
How to use a Money Clip
Silver money clips are easy to use. Simply gather and stack your money notes into a pile, fold them over, and push them (folded edge first) between the two prongs of the clip. However, to utilise your accessory to its most, a few additional steps can be added. Firstly, consider how you want your bills ordered. If your priority is to have smaller notes more readily accessible for everyday purchases, then have these at the top of the stack when you order your notes before inserting them in the clip. This way, you will be able to retrieve a smaller denomination without having to withdraw all the money from the clip, as the smaller notes will sit in the centre. However, if you would prefer to order your notes the other way, this will keep the notes of higher value within the middle of the stack when clipped, thus displaying less to opportunistic pickpockets.
Secondly, despite its namesake, engraved money clips can be used for more than just holding notes, but also credit and identity cards. This is usually best stored by wrapping the notes over in two across the horizontal plain of the cards and then pushing the bundle as one into the money clip. This avoids any credit or debit cards brushing directly against the metal, where the raised numbers of a bank card can especially scratch a silver money clip.
Finally, slip the loaded clip into a pocket of your choosing. To begin, you may need to take out the whole bundle when requiring notes; however, after some familiarity and when remembering the order of notes that you packed, you should be able to pull out the required money from your pocket without even having to remove the rest of the package from your pocket.
History of the Money Clip
Money clips have a long history that date back many centuries, tied closely to the proliferation on paper currency. A precursor to the money clip can be found in Mesopotamia during the fourth century BC. While these were really used to clip records to sacks of grain, they were important in noting respective trading values and so are considered by some to be the earliest form of money clip. However, the first instances of dedicated clips for gathering monetary notes arose in China during the seventh century Han dynasty. This coincided with one of the first uses of paper currency, as wealthy Chinese people would keep their coins with a trusted person and carry a note as guarantee that they could access those coins again as required.
However, this practice died out, and it was not till the seventeenth century in Europe that the need for money clips arose again with the advent of paper currency. The main driver for the need of money bills came with the expansion of the British Empire, as they more easily needed to transport money around the world. The UK government therefore commissioned the manufacture of implements to group and file the notes, and hence money clips were created.
Later, the first patent for a money clip as we know today came in 1901 by D.G. Deovich. This clamping device also had a chain attached which could be secured to one's person and so be a safety measure against pickpockets. The modern money clip arrived in 1931 with a patent by L. Weeks which abandoned the chain and simply had two prongs which pressed together to hold money.