Personalised Hip Flasks
BEAUTIFULLY ENGRAVED HIP FLASKS
PERSONALISED BY
ENGRAVERS GUILD OF LONDON
FROM £17.95

Discover Beautifully Engraved Hip Flasks From Engravers Guild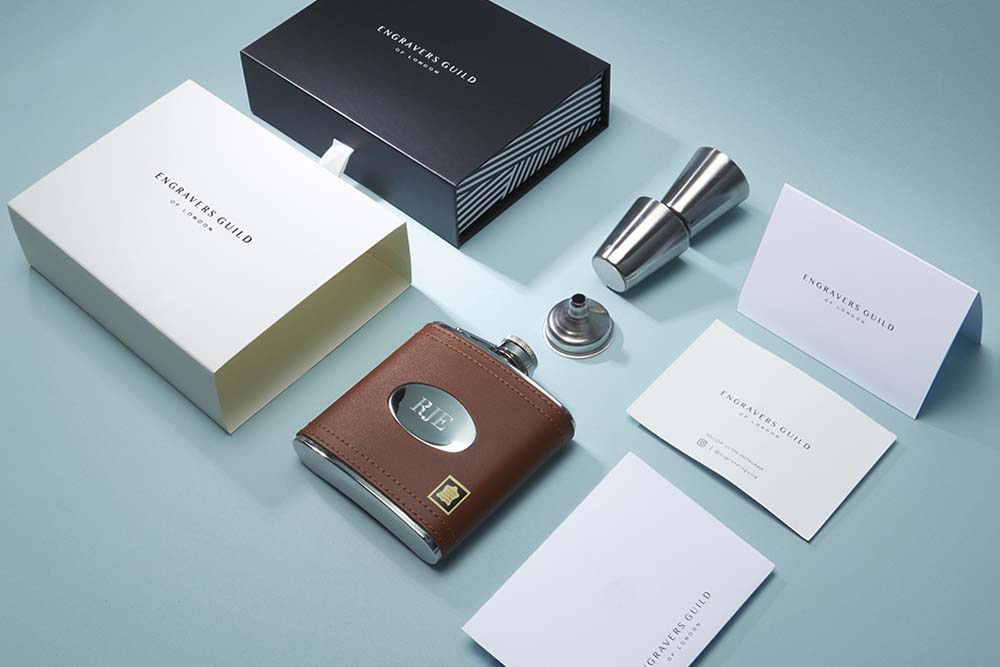 Exquisite Presentation
Engravers Guild is committed to delivering the finest gift experience.
Each personalised hip flask is presented in a signature gift box, wrapped in custom tissue paper and presented with a bespoke gift card containing a personal message.
Having sealed the gift box in a cellophane protective layer, the engraved hip flask is then packed into an Engravers Guild transit box for delivery. The whole package, once received, provides a touch of theatre in the opening of it, culminating with the untying of the white bow.
---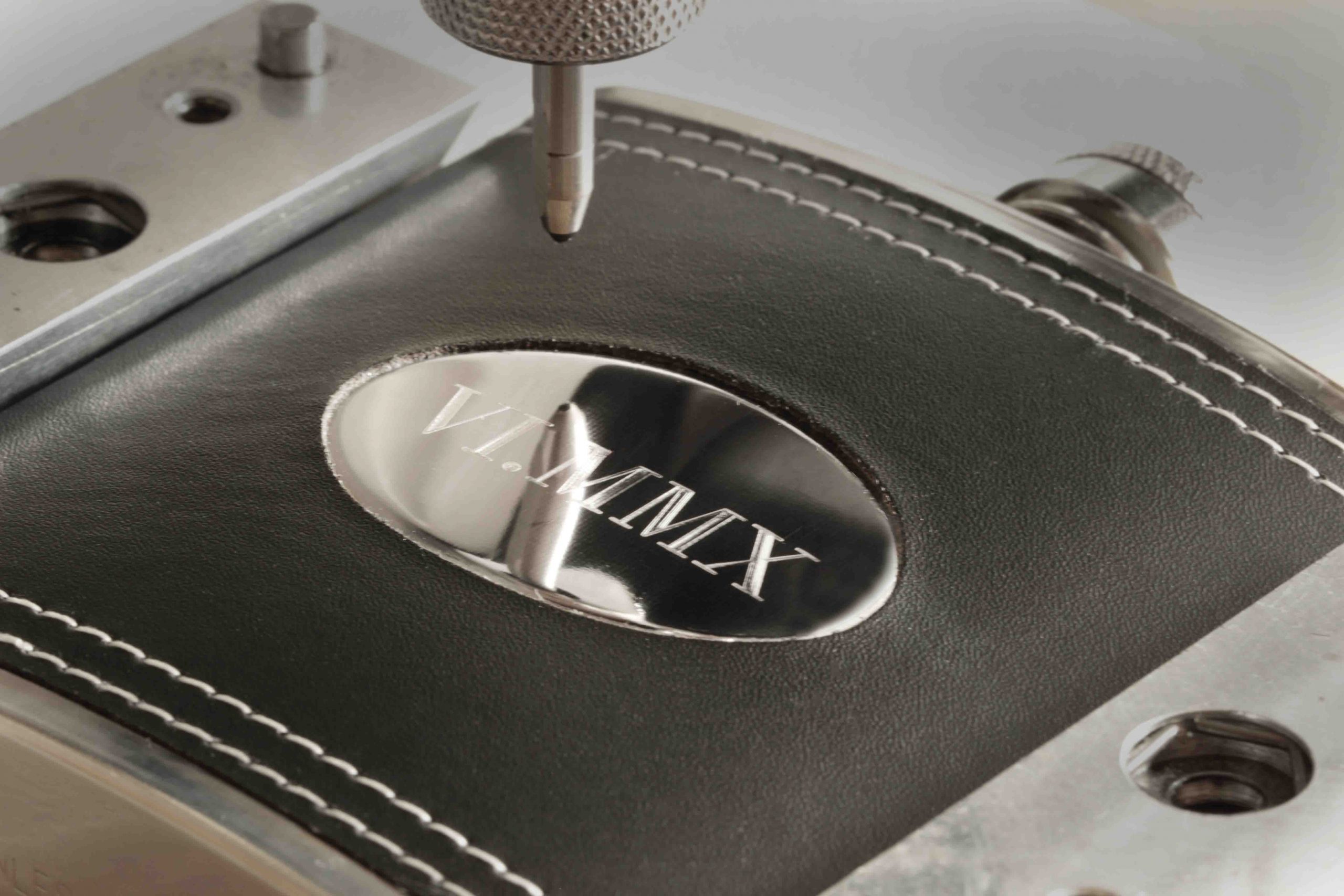 Precision Engraved Hip Flasks
Engravers Guild of London has developed the finest engraving techniques over many years.
All of our personalised hip flasks are finished with diamond tipped machine cutters, infilling the whole of the inscription and not just the outline.
The process works by the cutter passing over the surface of the metal dozens of times to create a deep and lasting impression in the engraved hip flasks for him. Custom-made jigs ensure precision accuracy every time, guaranteeing a beautiful personalised flask that will endure for many years to come.
---
Our Personalised Hip Flask Brands
Engravers Guild Hip Flask Collection
Engravers Guild of London was founded to offer the most beautiful personalised gifts. We work with some of the leading suppliers in the world as we curate an exquisite collection of gifts and finish them in the UK with a stunning custom engraving.
Alongside the global brands, we are also pleased to offer our own range of personalised hip flasks. These have been sourced from leading manufacturers and are designed to deliver the utmost quality at the best possible price.
Our range of engraved hip flasks have all been created to enhance the personalised gift experience and to leave an impression upon opening.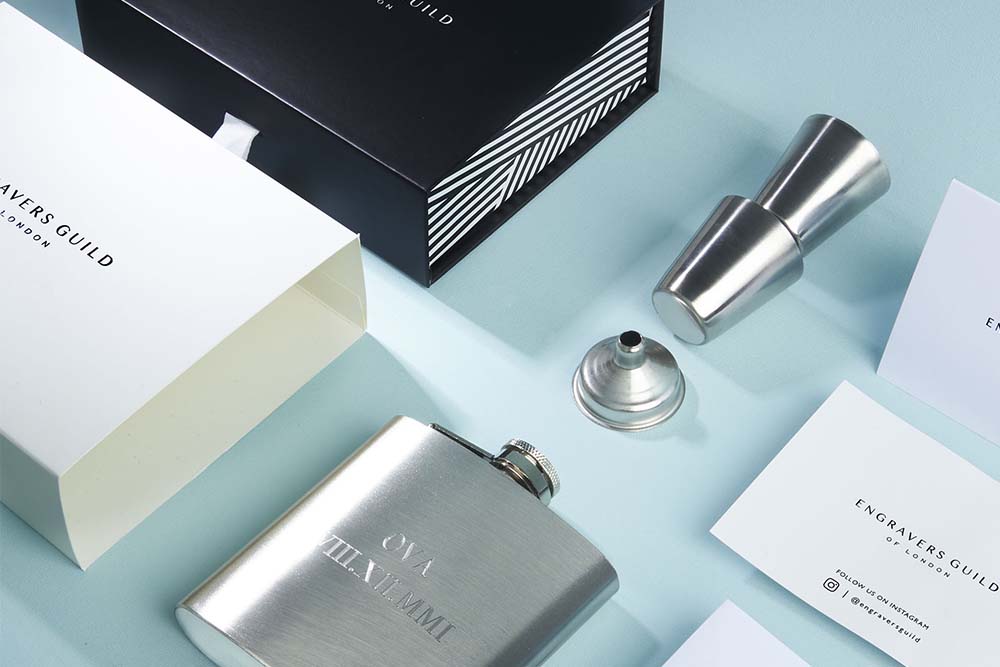 ---
English Pewter Company Hip Flasks
The English Pewter Company is the UK's largest producer of pewter ware, manufacturing their selection of engraved hip flasks at their location in Sheffield, England. Founded in 1977 by two metal spinners from a small workshop, the business has grown to a 20,000 sq ft factory with the addition of a pewter rolling mill factory.
The advanced capabilities of the English Pewter Company gives the business control over the complete production process, enabling them to offer the finest quality hand crafted pewter personalised hip flasks. An engraved gift from the English Pewter Company is a special piece of Britain that will last for many years.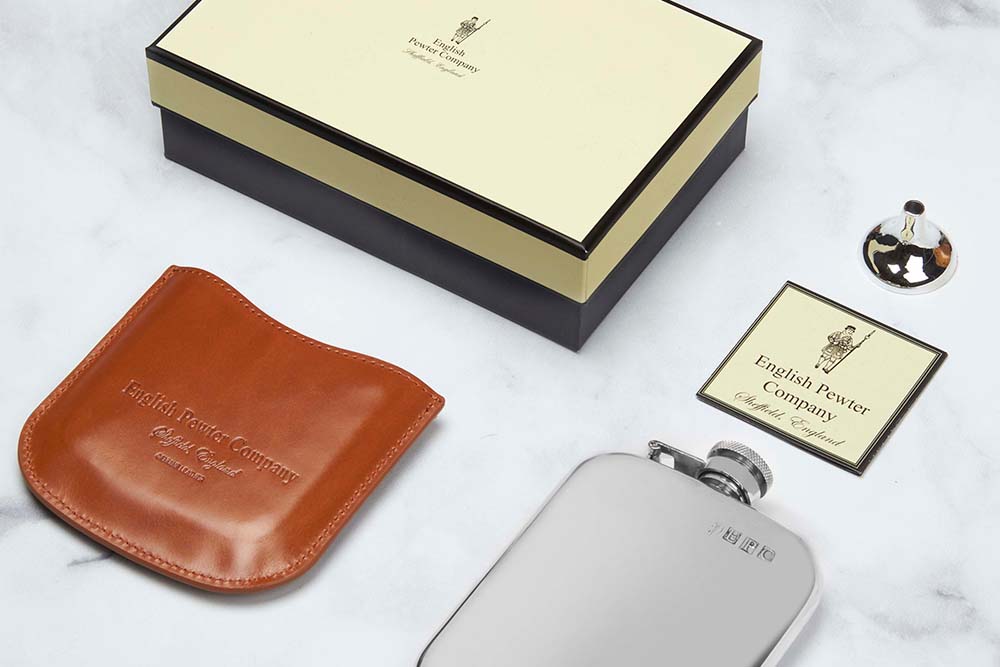 ---
Royal Selangor Hip Flasks
Royal Selangor has a long and proud history, offering perhaps some of the finest pewter personalised hip flasks in the world. Started in Malaysia in 1885, it originally made objects for ceremonial use, such as joss sticks and candle holders. With the advent of British colonials, though, the collection soon expanded to include engraved hip flasks, tankards and pewter plates.
A period of expansion came in the 1970s, exporting to parts of the British Empire such as Hong Kong and Australia. Come the 1980s, the company looked to the United States and Europe and today sells custom hip flasks to stores in more than 40 countries including Harrods.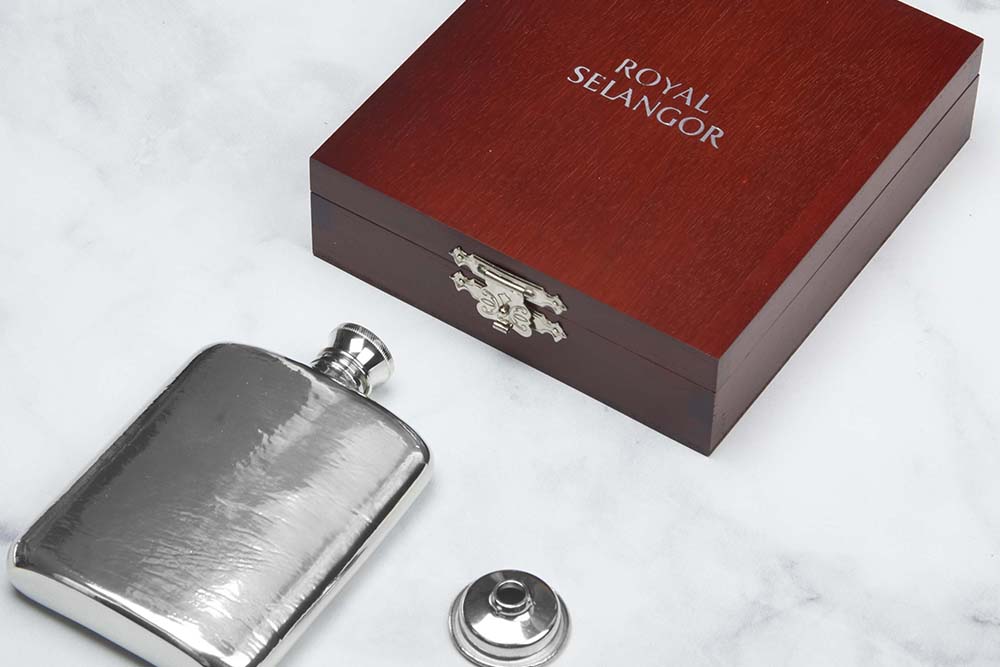 ---
How to care for your personalised hip flask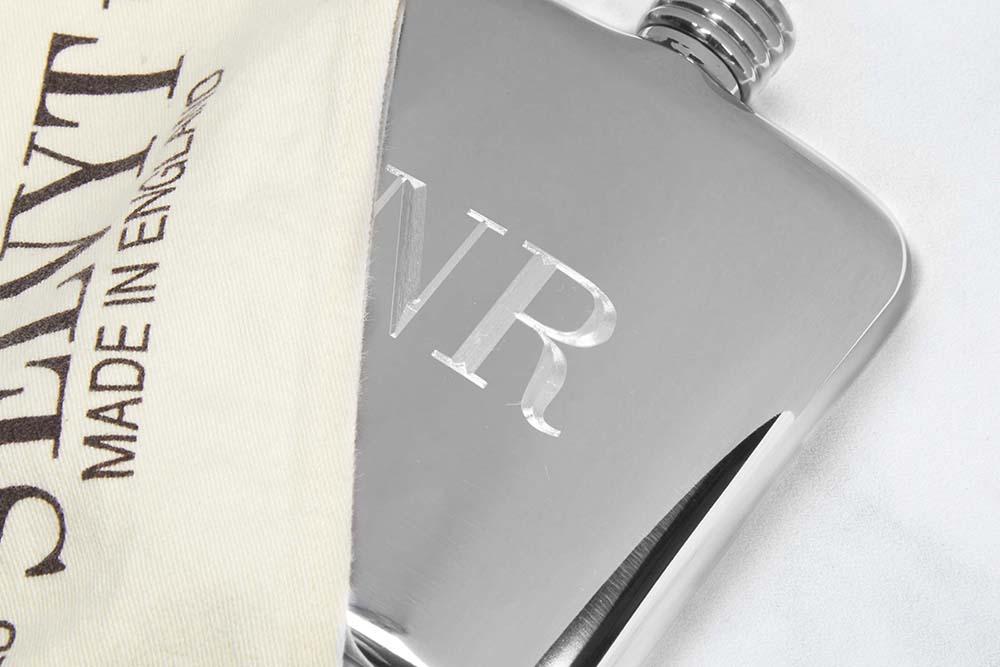 Care of steel engraved hip flasks
A stainless steel personalised hip flask from Engravers Guild of London is designed to last a lifetime. To preserve its finish and quality, just follow a few simple steps.
The engraved hip flasks should not be used for beverages with acid content, such as fruit juices and cordials. Always rinse the inside with clean water before filling and emptying the flask. Also, do not keep alcohol in the flask for more than three days.
We hope you enjoy your personalised hip flask for many years to come.
---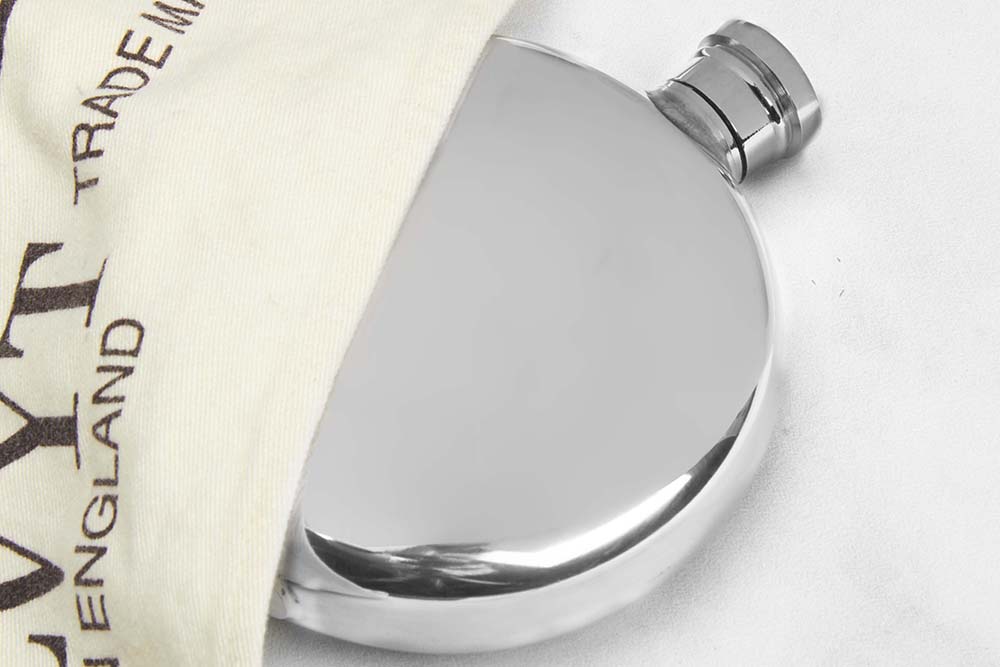 Care of pewter hip flasks
A pewter personalised hip flask is often distinguished by a highly polished surface. Being a soft metal, a patina will develop over time which is part of the natural character of all pewter. While this cannot be prevented, the following care of pewter is recommended.
Run a sink of hot water and wet a soft cloth to rub the engraved hip flask. Some mild detergent or soap may also be useful to remove more stubborn grease stains and dirt. When rubbing the cloth over the surface of the flask, do not rub in circular motions but instead move the cloth with the grain of the metal. To finish, rinse the engraved hip flask in hot water and rub it dry with a new soft cloth.
---
Bespoke Artwork On Your Custom Hip Flask
Step 1 - Share custom artwork
Engravers Guild of London specialises in created personalised gifts, and we pride ourselves on our custom engraving service.
We regularly engrave bespoke artwork on personalised hip flasks for companies, families and sections of the Armed Forces. Prices typically start at £15 (when good quality artwork is provided) for a one-off setup charge to format and prepare the design for the engraved hip flask.
To begin, simply email customerservices@engraversguild.co.uk with your file, and let us know which personalised hip flask you are interested in.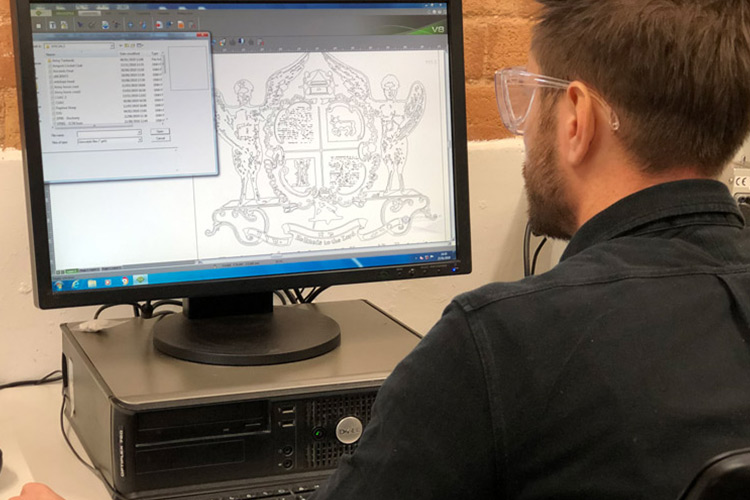 ---
Step 2 - Receive engraving preview
We understand that it can be difficult buying a personalised gift when there is uncertainty about how it will look. For our standard text engraving service, we offer an online Engraving Preview tool for each engraved hip flask so you can be as confident as possible that you will be pleased with the final thing.
For a personalised hip flask with bespoke artwork we also go as far as we can to give you confidence in the final product. With almost all custom orders, our studio will create a preview engraving on your custom hip flask. While this is only for illustrative purposes, it should provide a good impression of the final engraved gift.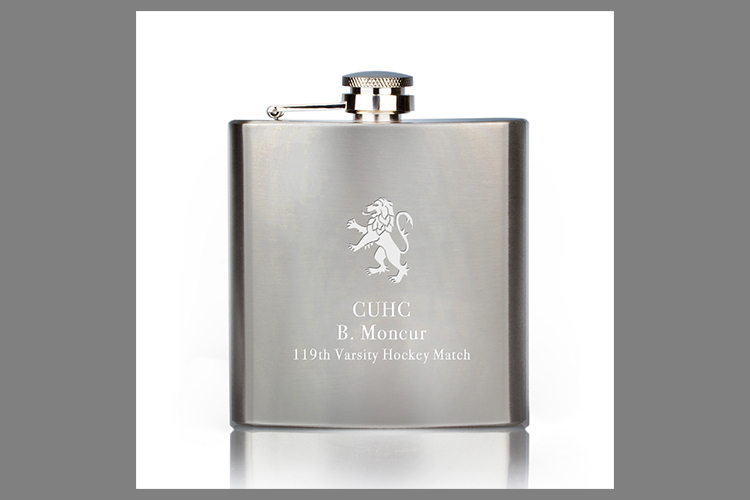 ---
Step 3 - Ordering your personalised hip flask
Our studio will be happy to work with you until you are happy with the design, size and finish with your engraved hip flask. At that point, we'll be able to send you a unique (and hidden) link from which you can make the purchase.
Here, you will electronically confirm that you approve the artwork, and you'll then be able to rite a short message to be included on a gift card if desired. Finally, you can complete the purchase of the personalised hip flask and detail delivery instructions.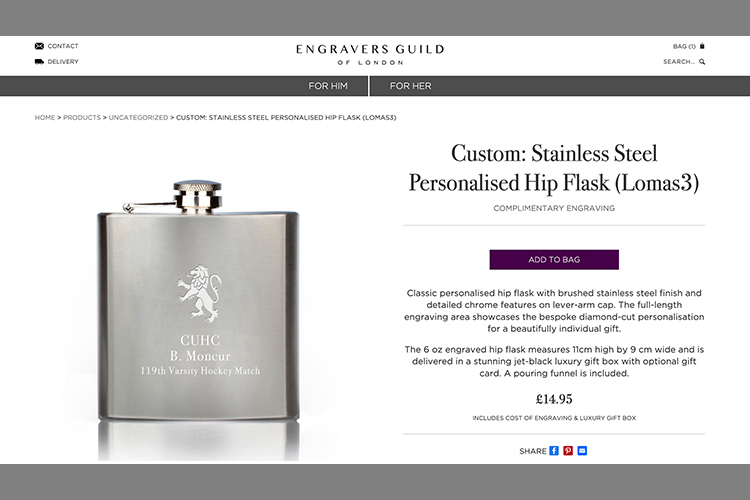 ---
Personalised And Engraved Hip Flasks
Engravers Guild of London is pleased to present this collection of personalised hip flasks for him. Each customised item has been individually selected for its quality and finish, as well as the design to showcase the personalised element. Choose from a range of styles including: stainless steel, pewter, leather and black matt.
We are able to engrave all types of design and artwork, and commonly engrave family crests, logos and bespoke artwork. For custom orders, do get in touch via our CONTACTS page, and a member of our team will be in touch right away. They will usually be able to create a preview image of how your hip flask will look and guide you through the simple process. A small fee for set-up is charged, guaranteeing the finest quality engraving and customer service.
Stainless Steel And Pewter
Our stainless steel options are made of an alloy that resists corrosion, rust and stains, making it easy to clean, anti tarnish and able to retain its high polish for many years. The most common type of hip flasks today, stainless steel is the default choice for many when buying an engraved gift.
Engravers Guild of London is a proud partner of the English Pewter Company, manufacturers of fine metalware made in Sheffield, England. A malleable material that dates back to the Bronze Age, pewter is noted for its distinctive patina that becomes more unique over time. Considered the "third" precious metal (after gold and silver), today pewter hip flasks are highly prized and are perfect for presentation items. All items from the English Pewter Co are lead free and delivered in their signature packaging.
Engraving Your Bespoke Hip Flask
Each bespoke item from Engravers Guild of London is engraved to the highest standards. Using proprietary technology and traditional techniques, the personalised element of each hip flask can be previewed online before purchase, before being then set by one of our skilful engravers on to the piece.
We use diamond tipped machine cutters on all our engraved whiskey flasks to produce a crisp and solid impression. Unlike many engravers, we take the time to cut out the full area of the letters – not just the outline – to ensure a premium finish that is as robust as the personalised gift itself. For bespoke artwork, we often spend up to eight minutes engraving each flask – while this takes much longer than laser engraving (typically taking 2-3 seconds to engrave the full face of a hip flask), we believe that the end result is far superior and helps to create an item that will be cherished for very many years to come.
Brief History Of The Flask
While most commonly bought today for gifting, the custom hip flask has fulfilled many purposes since its origins in Palaeolithic times. Taking its name from Latin 'flasco' (container), it would have first assumed the form of an animal bladder that sealed to hold water, which were later mass-produced for medieval pilgrims.
However, it was not until the 18th century that alcohol was more commonly carried. The combination of an improved distillation process – which meant alcohol kept longer without spoiling – and the advent of pockets in men's fashion made it de rigueur to have a tipple concealed about his person.
The zenith for hip flasks with personalised design, though, came in the early 20th century, when alcohol was restricted in many western countries. Prohibition in the United States did nothing to dampen the country's thirst for liquor and spirits, and heralded an explosion in the design of individual drinking vessels.
Engraved hip flasks for weddings are often a main driver of demand today. They make a neat token of appreciation from the groom to his best man, groomsmen and ushers, not to mention the father of the groom and father of the bride. Other occasions to commemorate the day with a personalised hip flask include christenings, graduations and birthdays.