Personalised Lockets
BEAUTIFUL LOCKETS
PERSONALISED BY
ENGRAVERS GUILD OF LONDON
FROM £34.95

Our Engraving & Gifting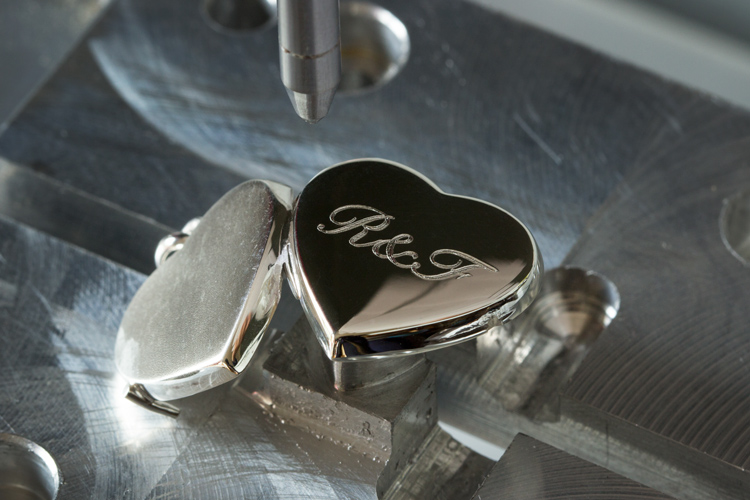 PRECISION ENGRAVING
A personalised locket is one of the most difficult items to engrave. The hollow construction leaves them prone to denting and the curved surface can leave an uneven impression.
All MYRI lockets from Engravers Guild of London have their own jigs (a purpose-made vyse) constructed for that individual model, ensuring a perfect engraving every time.
---
Engraved Sterling Silver Locket
Engravers Guild of London presents this custom selection of personalised lockets from LOVELOX. Each piece is made in the finest solid sterling 925 silver, with the additional options of gold plate and rose gold plate. These beautiful accessories have been finished to a flawless high polished effect, and are expertly engineered for the hinge to flow seamlessly into the curve of the design. Every locket from LOVELOX conveys a rare finesse and elegance which makes for an extremely special gift.
About LOVELOX Lockets
LOVELOX is a British jewellery brand specialising in personalised lockets. They take life's Instagram's moments and turn them into something special, personalising each locket with two photos and an engraved message. Made by hand and assembled in a UK workshop, a LOVELOX locket is presented in a luxury gift box and makes for a memorable opening occasion.
The Gift Presentation
Each photo engraved locket is exquisitely presented with in a custom MYRI necklace box. The gold foil stamped name against the luxury paper creates a strong impression when opening, and the delicately wrapped jewellery cushion with branded tissue provides an exquisite finish. Perfect for bridesmaids' wedding gifts, Mother's Day presents and a baby Christening occasion, the personalised photo necklaces deliver a customised gift experience which express a unique sentiment.
The Personalisation Process
Engravers Guild of London is committed to delivering the very finest engraving in the industry. Engraved silver lockets require more attention than most other items of jewellery, being of a hollow design where the metal can be prone to dent when pressure is overly applied. For each of the Myri lockets we finish, we take the time to engineer an individual jig for the inner shape of the piece, so as to create a solid base to support the engraving cutter. The result is to produce a beautiful inscription that will last indefinitely.