Personalised Tankards
Our Engraving & Gifting Process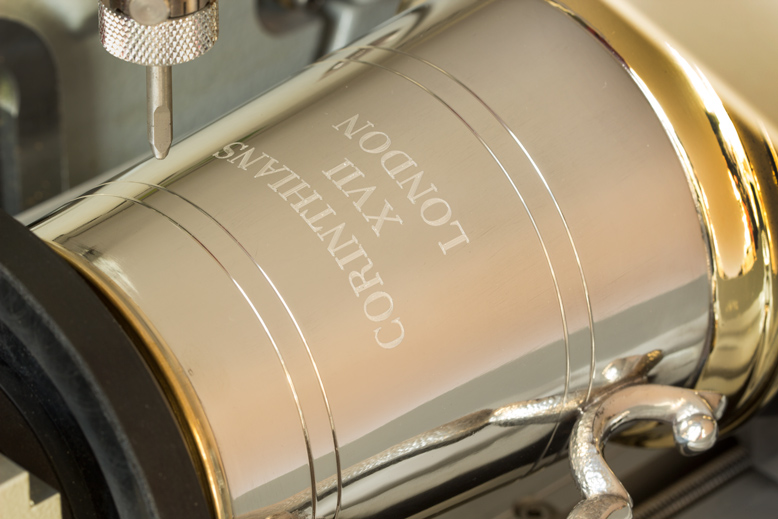 Precision Engraving
Every personalised tankard from Engravers Guild of London is finished with a diamond tipped machine cutter. We are committed to delivering the best quality engraving in the industry, and we inscribe the full form of the letter – not just the outline. An engraved tankard from Engravers Guild is designed to last a lifetime and become something that is passed to the next generation.
---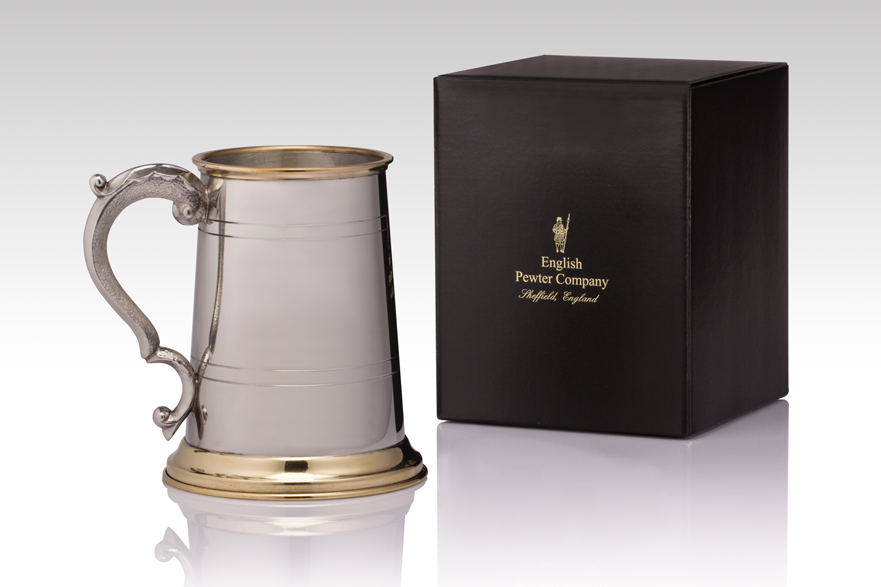 The Gift Presentation
Each engraved tankard from Engravers Guild of London is designed to create an experience upon opening. With a personal gift card and careful wrapping, the custom gift makes a perfect item to mark special occasions such as wedding parties, retirement events, Christenings and weekends away for the groom and best men. Each personalised tankard is despatched in either a black box from the English Pewter Company, a white Engravers Guild box or a silk-lined presentation case from English Pewter Company.
---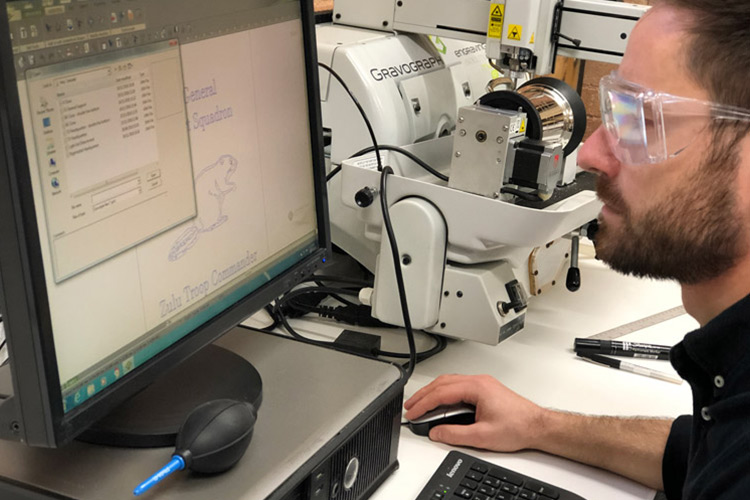 The Service
At Engravers Guild of London we carefully prepare and inscribe each engraved tankard we send out. We take the time to ensure that each engraving is beautifully finished and aligned in the centre. However, we also understand that sometimes you need your personalised tankard at short notice and so we do everything we can to deliver a fast turnaround time.
Our standard delivery for an engraved gift is 3 to 5 workings days. Where required, though, we offer a Two Working Day service and also a Next Day Delivery option for personalised tankards when ordered before 1pm.
---
Our Brands of Personalised Tankard
Engravers Guild Tankards
While we stock leading brands of tankard, we are pleased to offer our own option for a personalised tankard. Our own engraved tankard has been sourced from the finest supplier and is designed to offer a beautiful engraved tankard at a competitive price.
The stainless steel tankard is presented in a luxury silk-lined box to make a very special engraved gift. Complete with a personal gift card, it should be a gift that makes an impression.
---
English Pewter Company
Engravers Guild of London is proud to work with the English Pewter Company across our selection of pewter ware.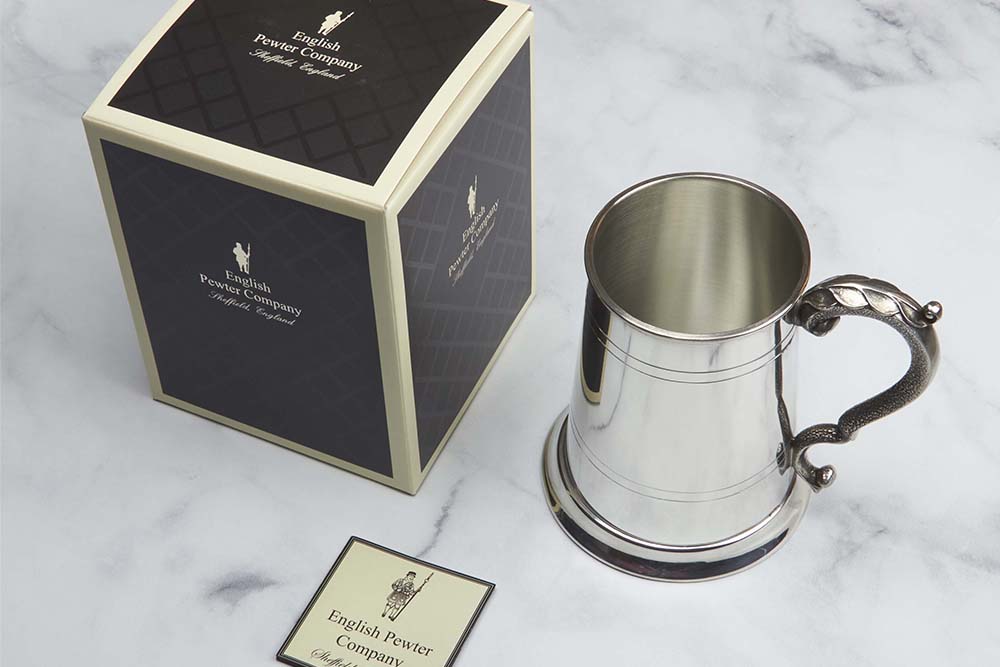 ---
Personalised Beer Tankard
Engravers Guild of London is proud to present this custom selection of personalised tankards for men. Each of the tankards has been included for its suitability to be engraved, ranging from standard stainless steel to the finest made pewter. Our entry level tankard is ideal for weddings and stag parties, making the perfect drinking vessel to mark an approaching occasion with friends and family. Meanwhile, the Plain Pewter Tankard is one of the most competitive prices in the market for people wanting to gift an engraved pewter item made in England. From there, there is a broad offering of mid-priced tankards including styles with Georgian details and hinged lids. Should the occasion require, our top of the range tankards cannot fail to impress, being heavier, more highly polished and showcasing the best-quality British workmanship.
Ode To The Personalised Tankard
Fear not, men, of those dull and miserable pub pint glasses. Designed for the pub landlord rather than the seasoned drinker, their ugly and swelling tops can now give way to the drinking vessel that history has proved is the one true amulet to taste the golden nectar that we call ale. Engravers Guild of London has assembled the finest collection of personalised tankards that can be found in the UK so that men no longer need to resort to the insipid imbibing instrument that the Guardian describes as, "A moribund weapon of mass consumption that shows little love for the liquid inside". Drink up ye men, and enjoy the taste of beer that's drunk the proper way.
Engraved Pewter Tankard
Engravers Guild of London partners with the English Pewter Company for all of its personalised pewter tankards, the largest UK manufacturer of pewter giftware. The business was established in 19977 in Sheffield, a city with a rich history of quality metal working, and today is a family-run enterprise serving markets all over the world from a purpose-built 20,000 sq ft development. Tankards have always been a major part of the business, and the English Pewter Company delivers custom designs to some of the most eminent sporting and commercial organisations.
Origin of the Beer Tankard
Personalised tankards date back to the 1400s in Germany where they were used for drinking ale. While earlier versions were usually made in wood, common design features that endured through the centuries were the single handle and, commonly, a hinged lid on the top. Many theories have been put forward for the purpose of the lid, ranging from being a guard against falling plaster when drinking in shabby and cheap establishments, to containing the beer when brawls commonly broke out. Whatever the purpose, this design feature seemed to be phased out in the nineteenth century, with a focus instead being on elaborate metal work to decorate the exterior of the vessel.
Bottomed Glass Tankards
Another interesting design element was the adoption of glass bottoms. These were rumoured to have been developed in England in the age of the press gangs when the Royal Navy would tour local taverns to pick up new members for their ship. If you drank to the bottom of your tankard and found the King's shilling, then you were said to have accepted impressment. An alternative theory is that a drinker could see their enemy approaching, with another being that it was easier to gauge the clarity of one's beer with a glass bottom. Today that concern may not be so great, though the benefits of a glass bottomed personalised tankard may still be apparent when on any stag or wedding party.
Cleaning Your Engraved Pewter Tankard
Your personalised tankard is designed to last a lifetime. To keep it looking at its best, it's important to take the following simple steps. Firstly, never put pewter in the dishwater as the heat and detergent will blemish the surface. Instead, gently wash your pewter by hand with warm water and a very mild detergent if needed. Ensure you use a soft, non-abrasive cloth and wipe back and forth in straight lines on the engraved tankard – do not rub in circular motions as the pewter has been manufactured in runs of sheet metal and circular polishing could show against the grain.
Polishing A Pewter Engraved Tankard
Pewter is a naturally shiny material and your engraved tankard should rarely require polishing. However, for those occasions which require a little more sparkle, we recommend the following directions depending on what type of finish your tankard has. For polished pewter, purchase a professional cloth for polishing and that should be all that is required. For bad marks, specialist metal polishes are available from all good hardware stores and cobbler shops. Satin pewter, meanwhile, has a grainy/textured finish which can sometimes benefit from a gentle buffing with some extremely fine steel wool. Finally, oxidised pewter has a dark, mottled finish and such personalised tankards should be washed only with light soapy water.