Personalised Cufflinks
BEAUTIFULLY ENGRAVED CUFFLINKS
PERSONALISED BY
ENGRAVERS GUILD OF LONDON
FROM £24.95

Engraved Cufflinks Personalised By Engravers Guild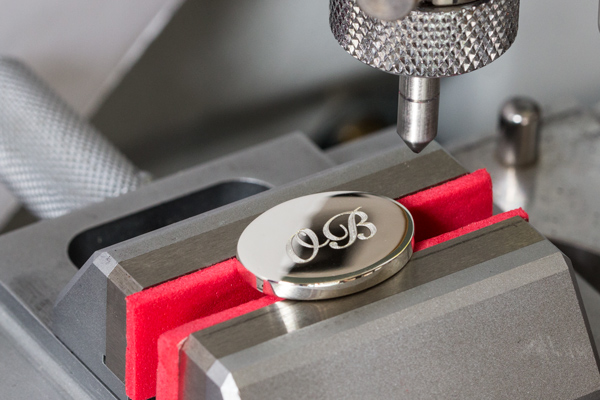 Precision Engraved Cufflinks
Engravers Guild of London is committed to delivering the best engraving quality for personalised cufflinks.
Our team of experienced engravers uses traditional diamond-tipped machine cutters with precision technology, creating a deep impression that retains its clarity and lustre indefinitely.
All of our engraving is carried out in-house. To guarantee the most perfect finish, each model of engraved cufflinks has been individually tooled and jigged so that the end result meets our strictest of quality standards.
---
Beautifully Presented Cufflinks
At Engravers Guild of London, we aspire to create an occasion around the opening experience. All of our personalised cufflinks are presented in an exquisite custom cufflinks box.
Our own engraved cufflinks from Engravers Guild are delivered in our signature black and white premium packaging, boasting both simplicity and elegance.
The Clewley range of custom silver cufflinks are presented in a handsome real wood case with the logo embossed inside the upper part in luxurious leather. The personalised gift card and Clewley booklet are the final touches to create a beautiful engraved gift.
---
About Our Personalised Cufflinks Brands
Clewley Cufflinks
Established in 1944, Clewley was founded as a manufacturing business in Birmingham's historic Jewellery Quarter.
Originally supplying skilfully engineered components to the large jewellery houses of the time, Clewley today offers an exclusive collection of silver personalised cufflinks and gentleman's accessories.
With a proud heritage, the brand remains true to its founding principles of delivering beautifully finished product and the engraved cufflinks are guaranteed to be of the highest quality.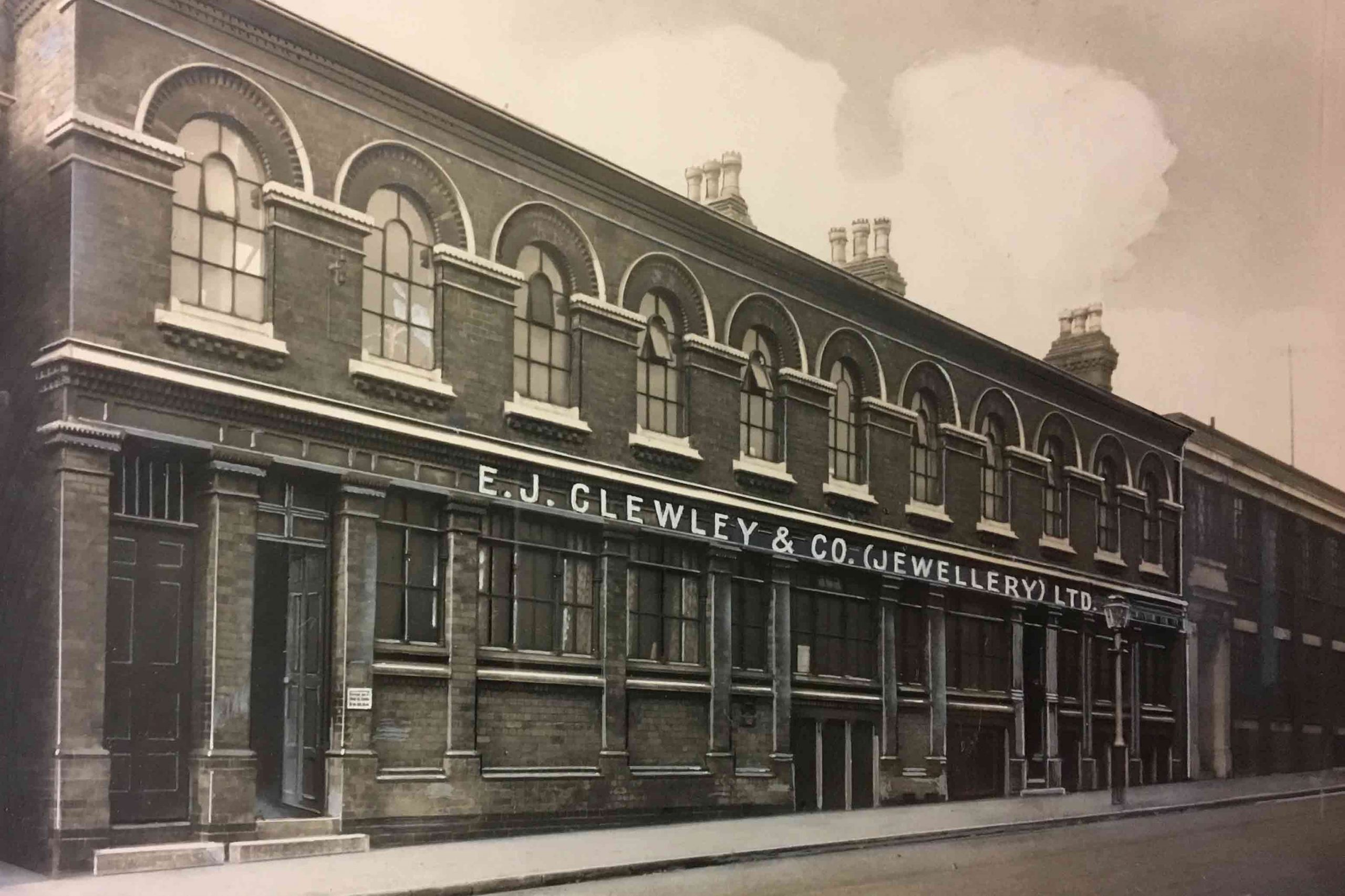 ---
Engravers Guild Cufflinks
The three pairs of cufflinks from Engravers Guild in this collection have been carefully developed to offer the best quality and greatest value of personalised cufflinks.
Exquisitely made in stainless steel, the finish is incomparable and designed to last for very many years to come. Beautifully proportioned, robustly designed and finely balanced, the engraved cufflinks from Engravers Guild are offered in classic round, oval and oblong shapes.
The highly polished surface of the custom cufflinks is the perfect stage for a personal engraving to make a very special engraved gift.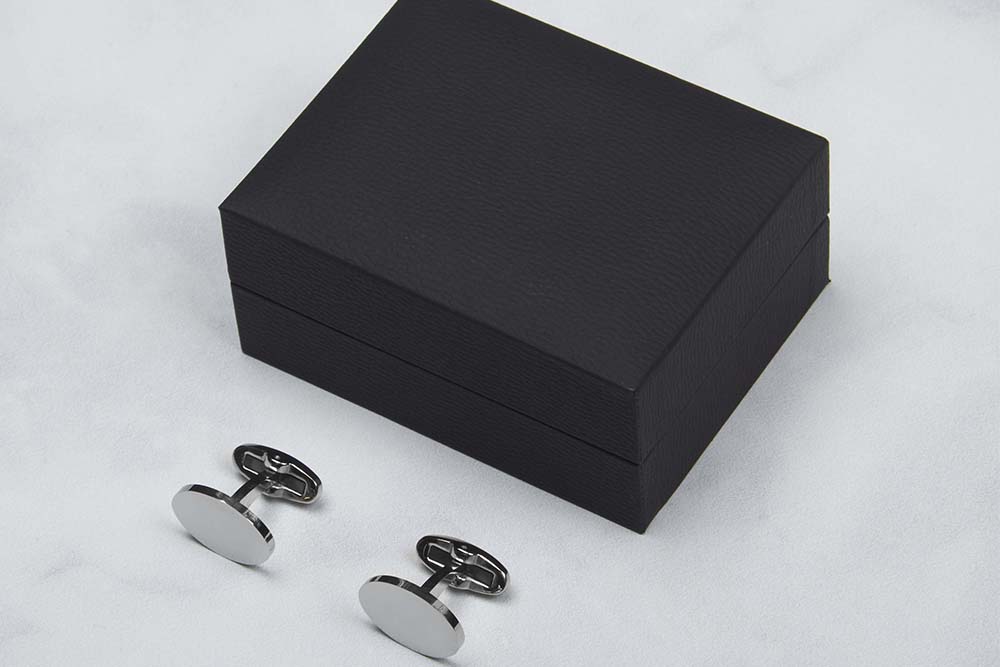 ---
Types of Personalised Cufflinks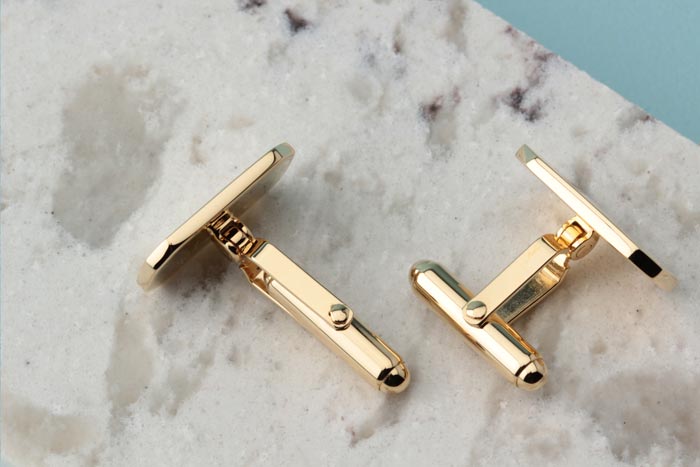 Torpedo or Bullet Back Cufflinks
The most common kind of personalised cufflinks is the classic toggle fastening which is popular for its ease of use and simple design.
The traditional toggle features a small bar which pivots around the centre of the length. When extended in line with the rest of the fastening, the bar can be easily pushed through a shirt cuff. To secure the engraved cufflinks, the bar is twisted to a tangential position with the fastening.
A fail-safe option for most men, the toggle cufflink is guaranteed to be an enduring favourite.
---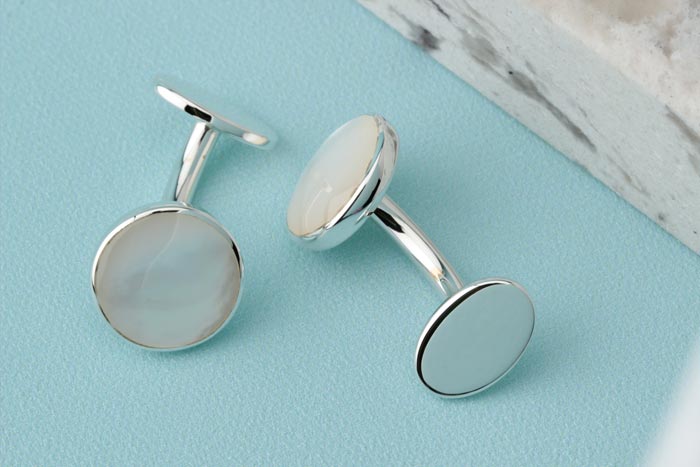 Stalk Cufflinks
Stalk cufflinks, or stem cufflinks, are the most simply designed type of fastening.
They are characterised by a rigid piece of metal or silver which connects a larger outer face of the engraved cufflinks to a smaller inner face which acts as the fastening.
With no moving parts, the stem personalised cufflinks are the strongest design of fastening. The fixed construction works by pushing it through a shirt cuff and twisted so that the elongated shape of the fastening is tangential to the length of the button hole.
---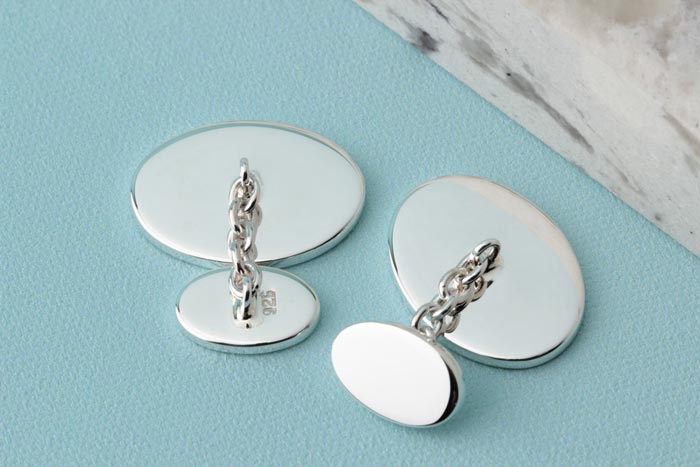 Chain Cufflinks
Chain link personalised cufflinks are characterised by two fastenings connected with a light chain. The loose links between the two cufflink faces mean that this type of fastening is often more flexible, which can mean that this style is sometimes more difficult to thread through a shirt cuff as there is no rigidity in the item.
However, the engraved cufflinks have the advantage in that both the inner and outer part can be used to decorative effect. We are happy to engrave on both sides of our Vyse model should it be desired, which a date on the outer part and initials on the inner part of the personalised cufflinks being popular.
---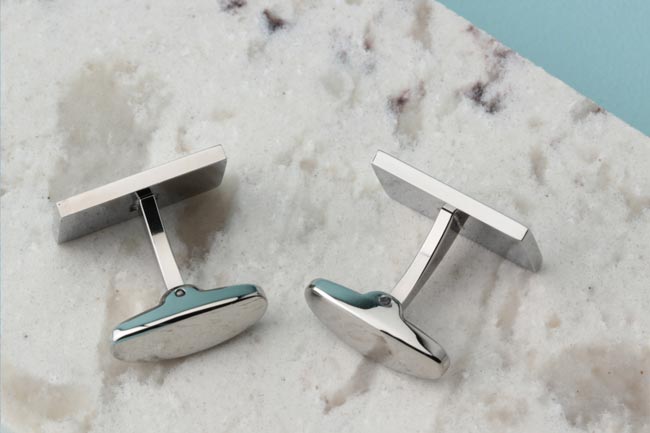 Whale Back Personalised Cufflinks
Whaleback engraved cufflinks are so-called because of the end piece of the fastening which swivels, or flips, like the tail of a whale. Lightly curved on one side and flat on the other side of the head, swivel-back personalised cufflinks are considered as one of the most sophisticated fastenings due to their streamlined shape.
An additional benefit is their ease of wearing, due to the rigid stem which can easily be threaded through a shirt cuff. Furthermore, their durable design means they last a long time and so represent a good investment for many years to come.
---
A History of Personalised Cufflinks
Thirteenth Century
Today we have numerous engraved cufflinks and ways to secure our clothing, such as zips, buttons, velcro and elastic. However, for much of human history, people had to rely on ribbons and ties to pull together their garments.
A precursor to modern personalised cufflinks dated back to the 1200s. During this century, clothes began to become more fitted, and noblemen started to adopt fastenings of precious metals to keep their clothing together.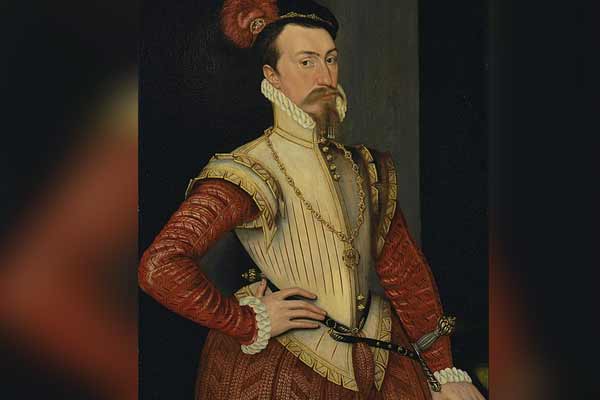 ---
Fourteenth Century
The trend for decorative men's clothing continued into this century. Of particular focus were those parts of men's shirts which were fastened, such as the cuffs and collar. Frills and plush fabrics were used at the wrists and neck to signify status.
Soon, it became de rigour for men to decorate these exuberant fastenings with personalised cufflinks in the form of coloured ribbons and ornate metal. This pre-dated engraved cufflinks, though is acknowledged as the first step towards them.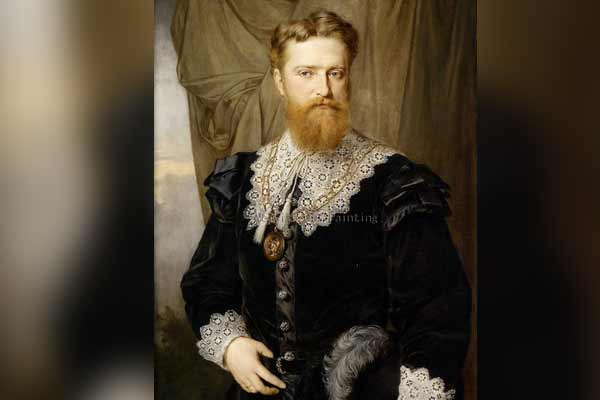 ---
Fifteenth Century
This century witnessed very little in the developments of personalised cufflinks. The Middle Ages marked a period of stagnation in the advancement of science, the arts and fashion. Prevalent styles were largely practical, and additional adornment was given less attention for men. Engraved cufflinks were rarely worn and other accessories were favoured.
Instead, signet rings were used to denote social class and standing. Engraved signet rings also served the necessary function of "sealing" documents with the symbol of the household.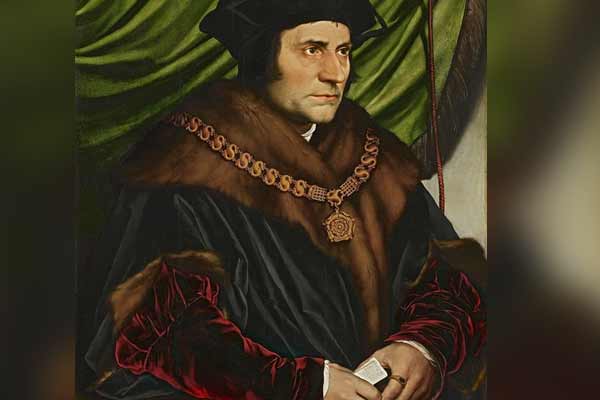 ---
Sixteenth Century
The practicality of the Middle Ages gave way to the Renaissance period. This heralded a new dawn for personalised cufflinks as the aristocracy began to adopt a more effusive fashion. Fine lace became more commonplace and sartorial styles for men became more experimental. Ornamentation and ostentatious tastes created the perfect canvas for the advent of engraved cufflinks. Every opportunity was taken to exhibit wealth and unique style, and engraved cufflinks were often commissioned for the landed classes.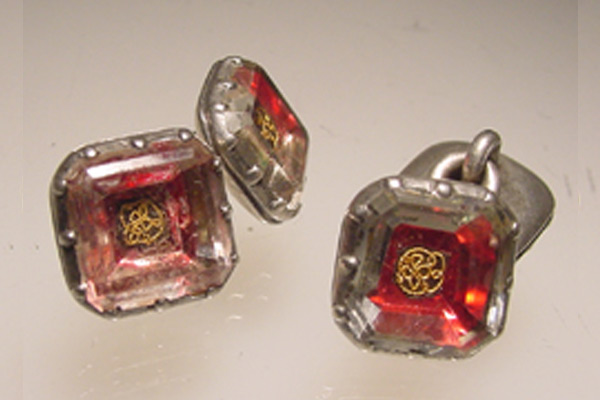 ---
Seventeenth Century
The excess of the Renaissance period began to draw to a close in the seventeenth century. Although this ended bespoke commissions of luxurious fastenings, it served to give birth to the personalised cufflinks we are more familiar with today. The engraved cufflinks made in the 1600s were more slender, though were still embellished with small stones and jewels. By the end of the century they were commonly known as Sleeve Buttons. These were considered an essential accessory for the nobility and the forerunner of personalised cufflinks was born.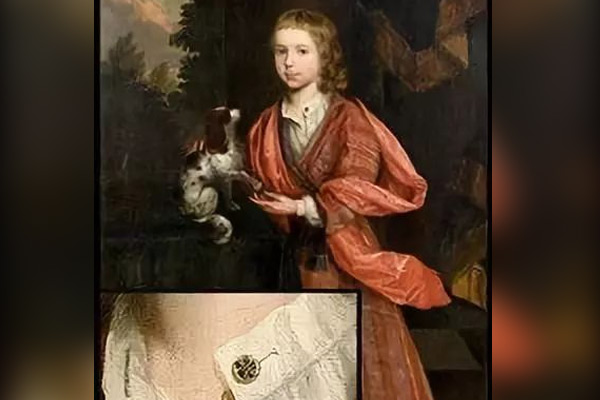 ---
Eighteenth Century
The Georgian era largely defines how we understand personalised cufflinks today. The elaborate commissions of previous centuries were toned down, and discretion was the byword for this time. Still the preserve of the upper classes, engraved cufflinks were embellished with small gemstones and designs. More expensive personalised cufflinks made from quartz or glass were decorated with miniature paintings of scenes from mythology or family portraits.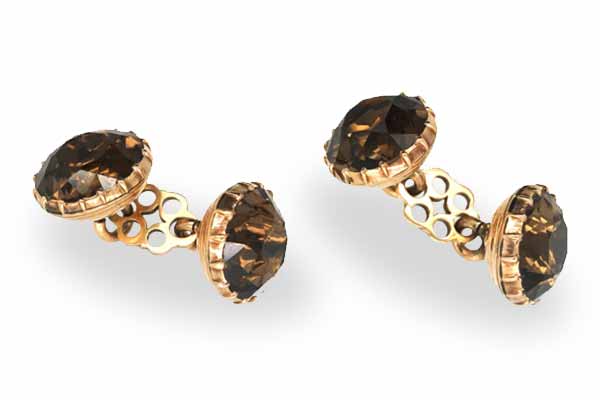 ---
Early Nineteenth Century
The coming of the Industrial Revolution heralded the golden age for personalised cufflinks. The accessory was no longer the preserve of the rich as new manufacturing processes brought down the cost of production. Makers of engraved cufflinks turned their attention to the larger markets of the bourgeoisie and the aspirations of the middle classes in Victorian England.
This coincided with the emergence of more formal fashions. Men's clothes were characterised largely by stiff white collars and cuffs which could be changed. These were highly starched and old-style buttons were not strong enough to hold the garments together. Hence personalised cufflinks became a necessity as much as a choice of taste.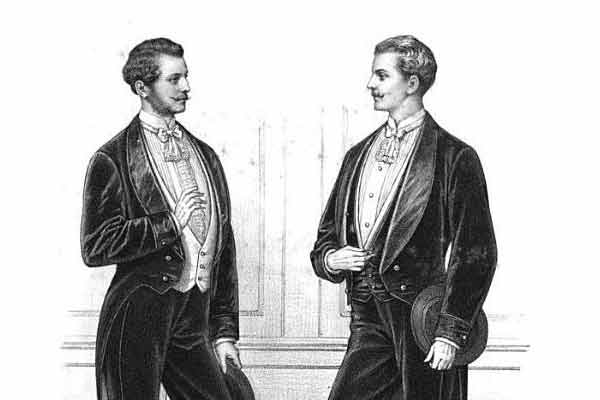 ---
Mid Nineteenth Century
The new owners of personalised cufflinks opted for a more humble finish than was typically associated with the old upper classes. However, this all changed in the middle of the century when the Prince of Wales was photographed sporting a pair of colourful Faberge engraved cufflinks.
The trend instantly took off and there was a clamour towards new finishes of custom cufflinks. Not having the means of the rich, mass produced personalised cufflinks incorporated ingenious details. Instead of gem stones and diamond, pastes and rhinestones were used to create a similar effect to diamonds. Meanwhile copper, steel and zinc alloys were used to imitate precious metals.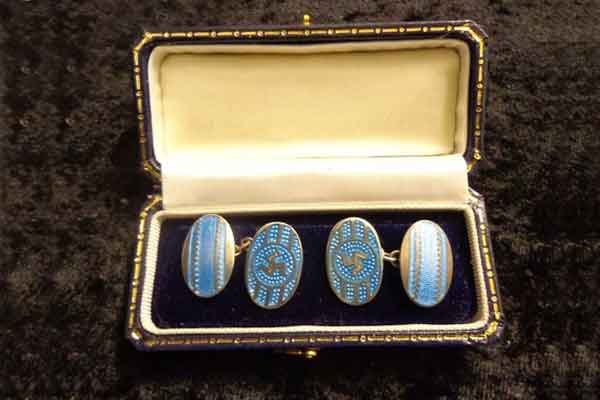 ---
Late Nineteenth Century
Personalised cufflinks benefitted from two things during this time: the improvement of mass manufacturing techniques and the popularisation of engraved cufflinks in popular culture. Engraved cufflinks were no longer reserved for more formal occasion and evening wear, but they were the mainstay of men's attire.
Alexandre Dumas referred to personalised cufflinks in his best-selling novel "The Three Musketeers". He described the guards of King Louis as turning back their cuffs, and European shirt-makers were quick to modify their designs to accommodate engraved cufflinks.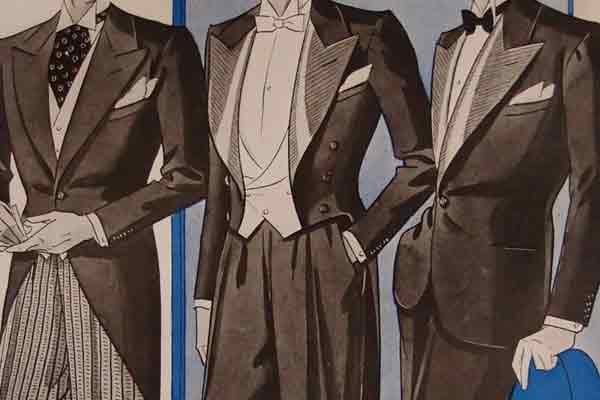 ---
End of the Nineteenth Century
Towards the end of this century, further advancements were made in the manufacture of personalised cufflinks. In the 1880s, George Krementz modified a machine that was used to produce cartridge shells in the civil war. This considerably brought down the price of engraved cufflinks and now they were very much a staple of the working classes.
Shirt makers were fast to capitalise on this advantage, and soon shirt sellers were marketing their products as sets complete with personalised cufflinks and tie pins. Indeed, these perfect conditions at the end of the century welcomed the Golden Age of engraved cufflinks that was soon to come.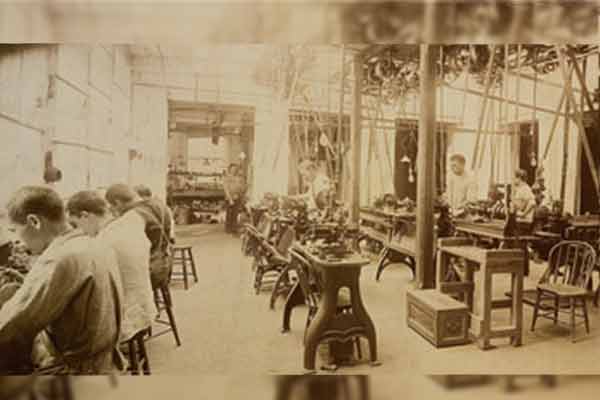 ---
Early Twentieth Century
During these years, more people wore silver personalised cufflinks than ever before. This saw an ever-expanding range of designs and styles to meet every taste. Moreover, men's shirts were no longer as heavily starched, meaning that more dainty and delicate styles of engraved cufflink could be worn.
Coco Chanel was an influential figure in the popularisation of personalised cufflinks, creating Art Deco and Art Nouveau designs. Meanwhile, engineering centres such as Germany and the Birmingham's Jewellery Quarter emerged, able to produce vast quantities of custom cufflinks at every price point.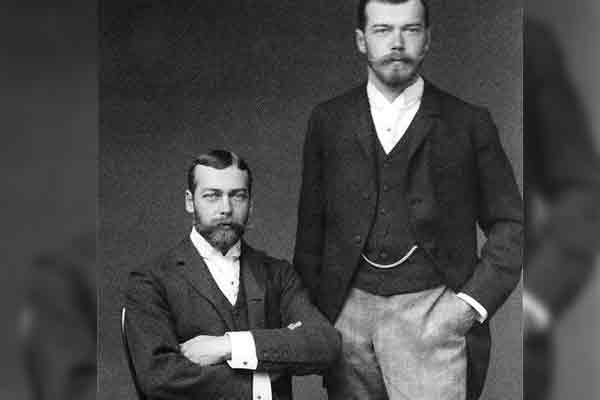 ---
Early-Mid Twentieth Century
The Roaring Twenties were a period when personalised cufflinks most thrived. New design movements and greater attention from houses such as Tiffany and Faberge made engraved cufflinks particularly desirable. Striking geometric designs emerged at this time, and new techniques such as enamelling were made more affordable.
From Royalty to working classes, every man would own several pairs of personalised cufflinks. However, the advent of World War Two would bring to a close this golden era.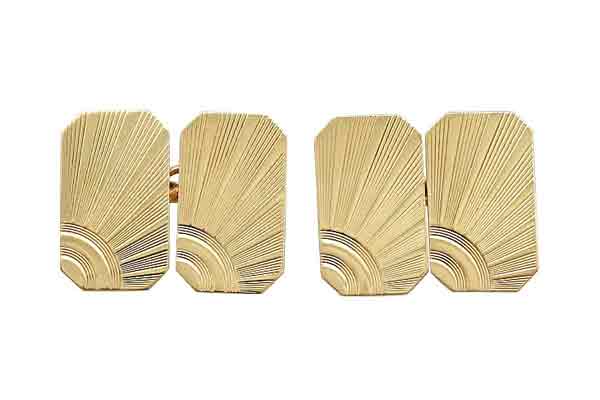 ---
Late-Mid Twentieth Century
With World War Two requiring vast quantities of metal for the war effort, buttons became the mainstream way for fastening shirt cuffs. Engraved cufflinks have since been largely overlooked, but for a brief period at the end of the 1950s and beginning of the 1960s. At this time in the UK, rationing was lifted and men revelled in adorning themselves with small metal items such as personalised cufflinks, lighters, cigarette cases and tie pins.
Beyond this, though, engraved cufflinks are largely confined to formal wear and special occasions. The tradition of personalised cufflinks lives on with high-end jewellers, catering to the super luxury market.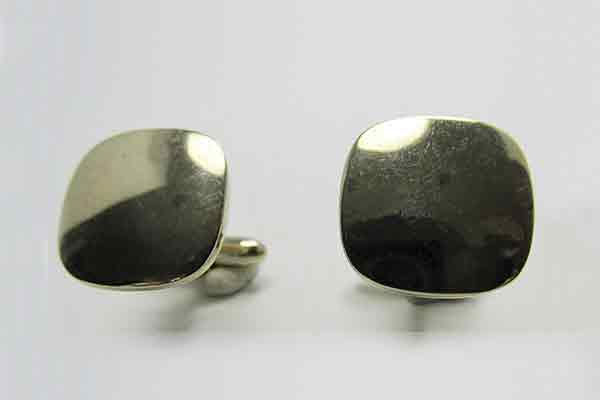 ---
Late Twentieth Century
The 1980s saw what was perhaps a watershed moment in the world of personalised cufflinks. Having suffered a decade of neglect in the 1970s, a golden pair of cufflinks worn by the Duke of Windsor came up for auction. These were originally gifted to the then Prince of Wales by his lover, Wallis Simpson. The cufflinks were engraved with the Royal insignia and finished with the letter "E" for Edward.
Although Edward VIII famously abdicated the throne for his wife, the tale gripped the world and they were one of the most famous couples in history. Such was the interest, that there was a great clamour when hundreds of their items came up for sale. The personalised cufflinks were a particularly coveted lot and sold for £400,000.
The attention on the engraved cufflinks reawakened an interest in men's style and a new generation of men began to experiment with the accessory.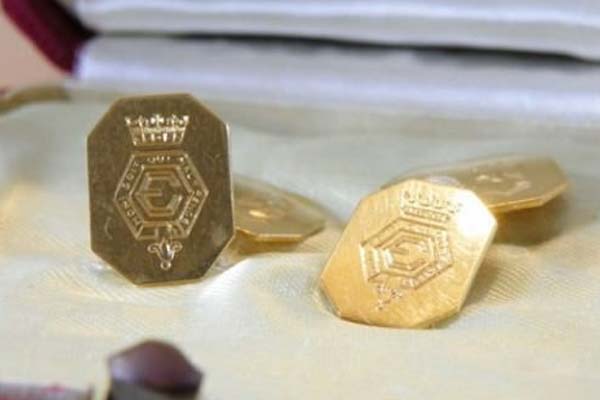 ---
End of the Twentieth Century
The Twentieth Century witnessed mixed fortunes for personalised cufflinks. Having enjoyed an increasing and steady adoption over the previous 600 years, the 1900s witnessed the heyday of engraved cufflinks in the 1920s but also their fast demise in latter years.
In the 1990s, though, there was a small renaissance. A new wave of high street fashion commonly adopted French cuffs in their shirt designs, necessitating the need for some form of personalised cufflinks.
The proliferation of technology for personalisation, though, did allow for the growth in an enduring trend for the accessory. While engraved cufflinks have often been gifted throughout history, this tradition was reborn again for special occasions. Weddings in particular offered a moment for a bride to gift the groom a pair of personalised cufflinks for the big occasion.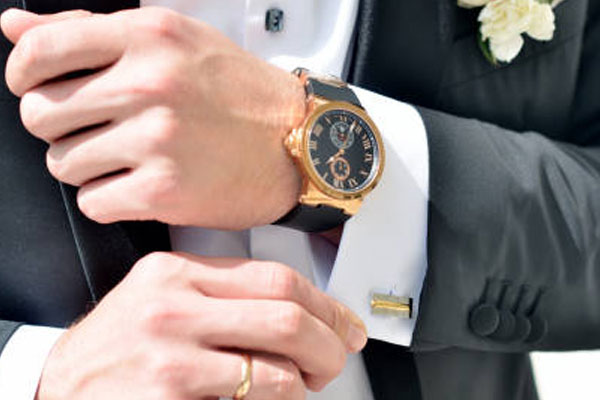 ---
Twenty First Century
In an age of fast fashion and transient tastes, the Twenty First Century represents challenging times for personalised cufflinks. With experimental styles and avant-garde designs, it is difficult to anticipate what fortunes lie in wait.
Popular culture, as ever, has had an influence on engraved cufflinks. Television shows such as Peaky Blinders introduced a new generation of men to forgotten historical trends. Accessories commonly associated with the Victorian era, such as pocket watches and personalised cufflinks, have benefitted from the attention.
Moreover, with increasingly unique styling and niche communities, traditional accessories are falling back in to favour amongst some demographics. The steampunk trend embraces all this nostalgic and is one of many influences which will determine the future fortunes of personalised cufflinks.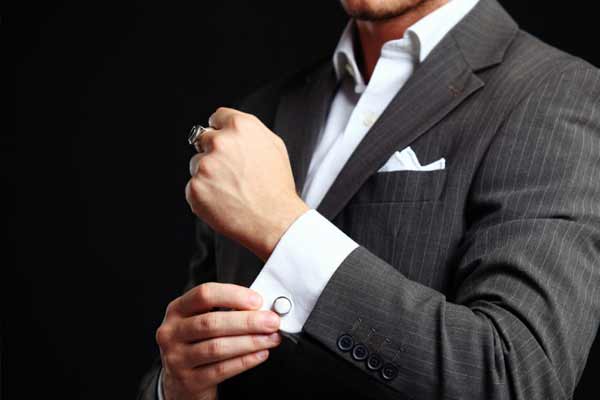 ---
PERSONALISED CUFFLINKS IN STERLING SILVER
Engraved silver cufflinks for men from Engravers Guild of London UK are selected exclusively to showcase the uniqueness of the personalised element. Fashioned in sterling silver 925, they are designed to be a permanent expression of love, respect or appreciation between the giver and recipient. Enhanced by the full gifting experience, the custom cufflinks are presented in luxury wrapping, and finished with an individual gift card.
SARTORIAL STYLE
Engraved sterling silver cufflinks are the hallmark of a man's sartorial style. Long established as the mark of a distinguished gentleman, personalised cufflinks in silver are a defining feature of men's attire and a nod towards inherent masculinity. Since being coveted by European monarchs in the seventeenth century, statesmen, businessmen and cultural icons have all seen the bespoke cufflink as providing a personal touch and reflecting the character of the wearer in an understated way.
Engravers Guild of London is one of the UK's leading purveyors and finishers of sterling silver accessories, founded to make perfect gifts more personal.
HISTORY OF A LONDON CUFFLINK
Personalised silver cufflinks from Engravers Guild of London reflect London's association with the gentleman's favourite accessory. It was at the time of King George (1738-1820) that the buttons which had traditionally been used to fasten cuffs became more ornate and durable in London. However, during the reign of Queen Victoria (1837-1901) and towards the end of the British Industrial Revolution, technology had advanced that cufflinks could be mass manufactured and afforded by the middle classes.
It was tradition for businesses, organisations and social societies in London to commission large runs of engraved cufflinks, with elaborately personalised cufflinks still favoured by the upper classes. The most expensive set of cufflinks ever sold at auction was made by Cartier London for the Duke of Windsor. They consisted of double sided cufflinks engraved with E & W. On the back they were engraved Edward 23/6/35, and Wallis 19/6/35. Estimated to bring £70,000 – 90,000, the set sold in London for a record £115,250 in 1987.