Engraved Pens
BEAUTIFUL ENGRAVED PENS
PERSONALISED BY
ENGRAVERS GUILD OF LONDON
FROM £25

Engraved Pen Collection By Engravers Guild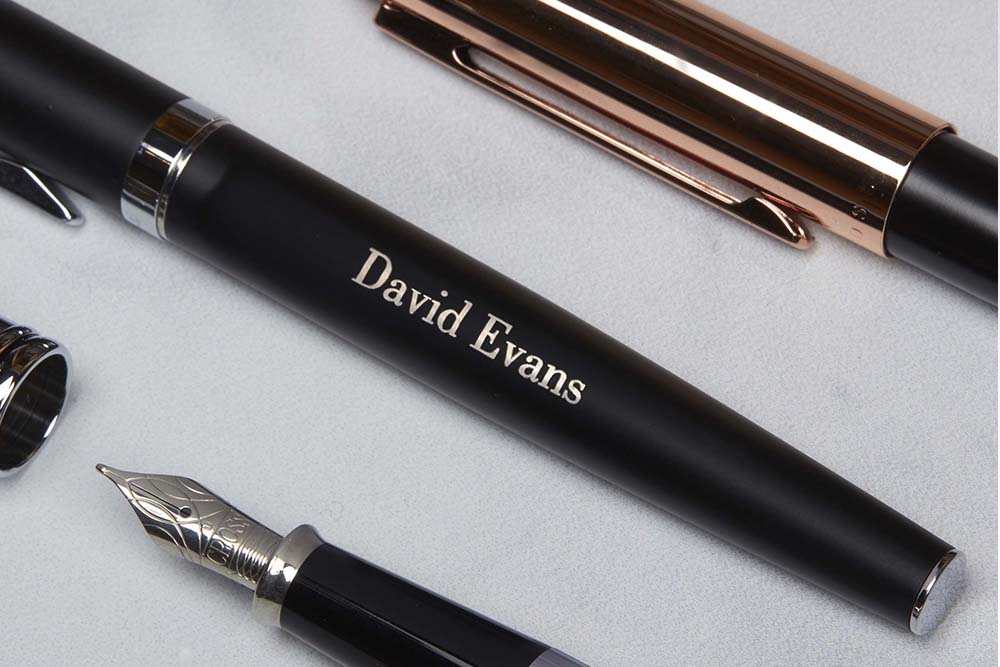 Our Personalised Pens
The engraved pen collection has been curated with an emphasis on quality and presentation. Each pen has been selected especially for personalisation, with particular attention paid to the packaging and suitability for engraving.
We work with only the finest pen brands, including Cross and Shaeffer, alongside more fashion-orientated names such as Hugo Boss and Paul Smith.
---
About Our Pen Brands
About Clewley
Established in 1944, Clewley was founded as a manufacturing business in Birmingham's historic Jewellery Quarter.
Originally supplying skilfully engineered components to the large jewellery houses of the time, Clewley today offers an exclusive collection of gentleman's accessories and fountain pens.
The Clewley tradition of British manufacturing continues in the exclusive collection of solid sterling silver engraved fountain pens.
Made in Birmingham, just a few streets away from where the first Clewley factory was first built, the pens are each individually crafted with traditional techniques and finished by hand.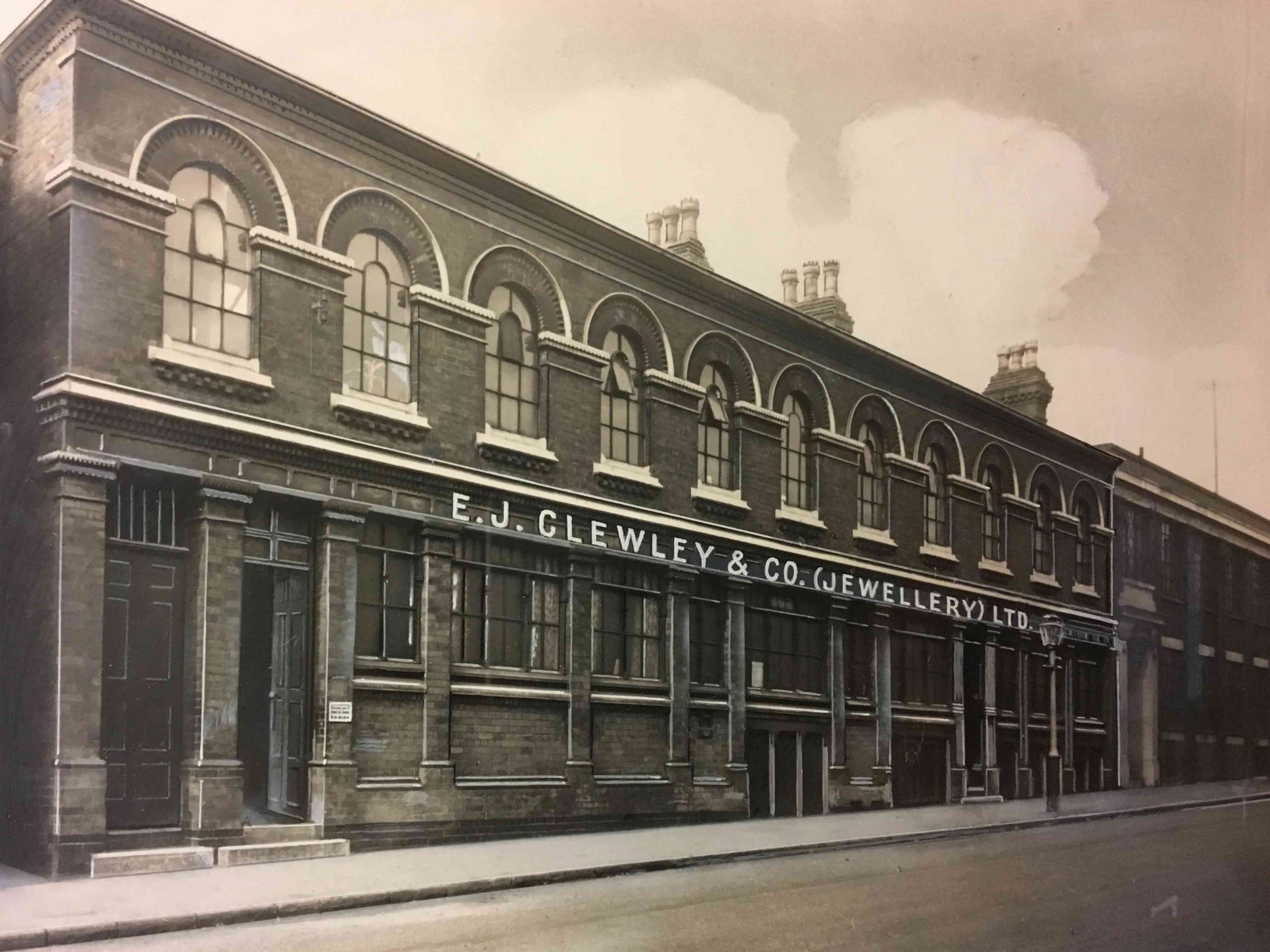 ---
Cross Pens
The Cross company is one of the world's leading manufacturers of writing instruments. An iconic American name, the brand was founded in 1846  in Providence, Rhode Island, and has remained true to its heritage ever since.
Their unfailing ambition is to create writing products which are unsurpassed in design and quality. Bringing together engineering and craftsmanship, Cross has an illustrious list of customers, with President Joe Biden most recently selecting a Cross engraved pen to write his signature at the Presidential Inauguration Ceremony.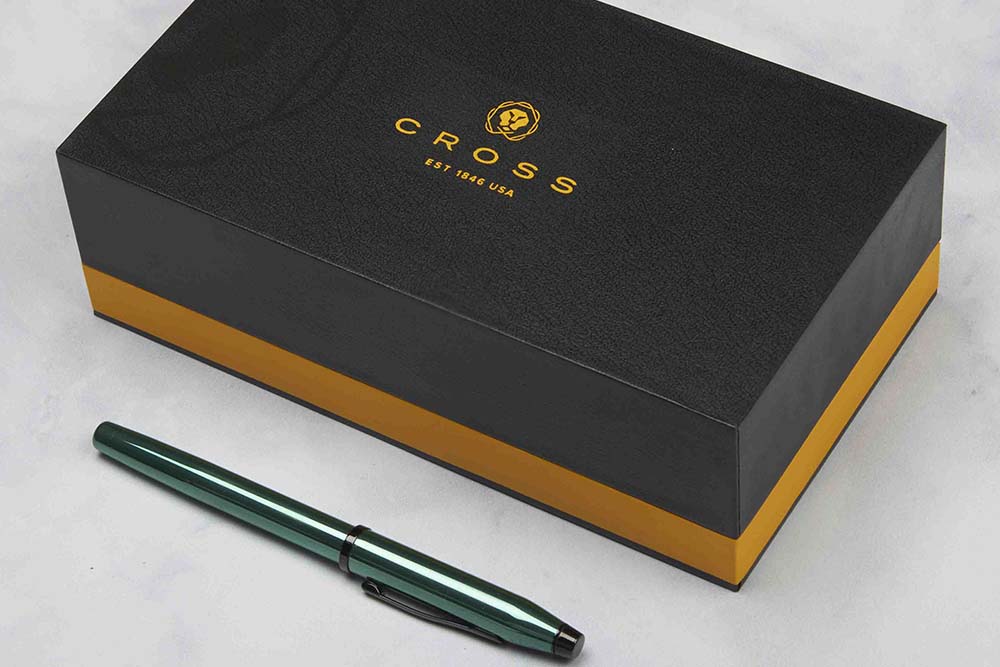 ---
Hugo Boss Pens
Hugo Boss is one of the world's most recognisable names in luxury apparel and accessories. Synonymous with elegant lines and enduring quality, their engraved pens range was developed to complement their business-wear, athleisurewear and eveningwear. Claiming to help prepare their customers for whatever the day brings, their ethos is that you should be perfectly dressed for every occasion.
The personalised pen collection embodies the brand's culture of supporting men and women to be the best they can be.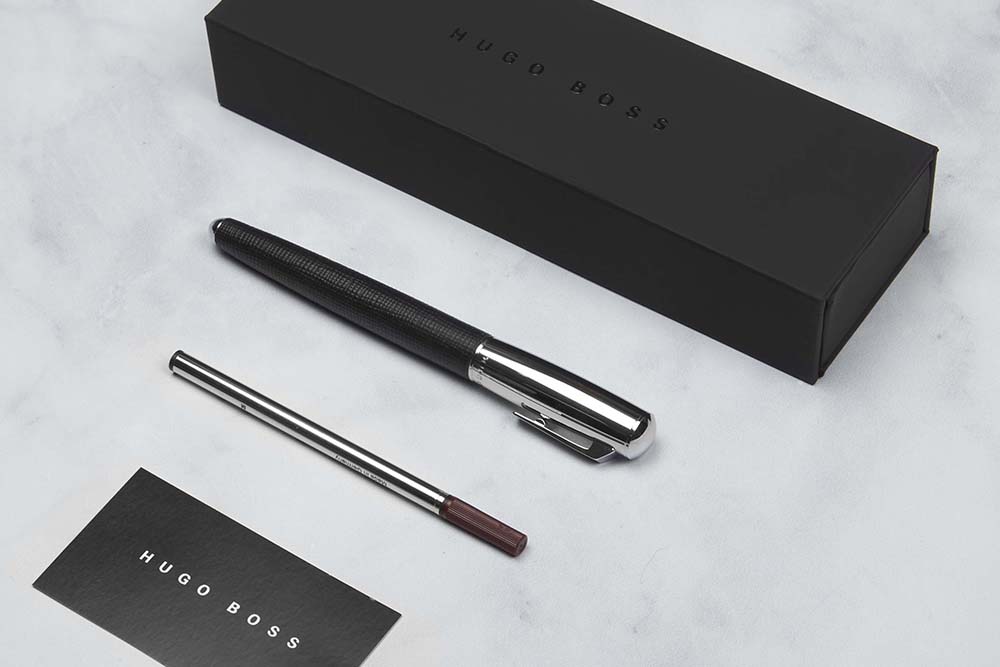 ---
Engraved Fountain Pens
The Personalised Silver Pens Collection from Engravers Guild of London is designed to create exquisite gifts that will last a lifetime. Each pen is crafted in the finest solid sterling 925 silver complete with hallmark, and finished to either a high polish or engine-turned effect. The feature of each silver pen is a personalised engraving which can be previewed online before purchase and is a complimentary service.
Personalised Silver Pens
Every engraved fountain pen by Engravers Guild of London is finished in-house with a diamond tipped machine cutter, leaving a perfectly formed and indelible impression. The pens are designed specifically for the purposes of engraving, with each pen showcasing an area for the personalisation to neatly stand proud and be an attractive addition to the fine lines of a handsome gift.
Beautiful Presentation
Each personalised pen and engraved silver fountain pen is presented in a luxury wooden presentation case, bearing the origin of the manufacture of the pens on the inside lid: Clewley, from Birmingham. Every touchpoint of an Engravers Guild gift is carefully considered to deliver an experience that is memorable and special, creating an emotion which is evoked every time the personalised silver pen is used. There is also the option to include a complimentary gift card with bespoke message.